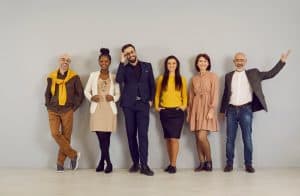 Adults of all ages can enjoy the benefits of visual independence free from contact lenses and glasses with LASIK. As long as you are at least 18, age is not the definitive factor for LASIK candidacy. Your eye health and stable vision are key qualifications in determining if LASIK is the right choice for you. The American Academy of Ophthalmology reports the average LASIK patient in 2021 was 40 years old with nearsightedness (myopia) or 55 with hyperopia (farsightedness), but research suggests the ideal age is 20 to 40, or whenever your vision prescription stabilizes.
Laser Eye Center™ is the premier refractive and cataract surgery center in Southern California. We have a 30-year history with over 500,000 successful procedures performed and a vast community of friends with excellent vision. Our senior ophthalmologists have trained other renowned eye doctors in the area. We only use the most advanced technologies and techniques for laser vision correction, including all-laser, bladeless LASIK.
Is There a Perfect Age for LASIK?
Laser-assisted in situ keratomileusis (LASIK) is approved by the U.S. Food and Drug Administration (FDA) for patients 18 and older. However, many LASIK eye surgeons encourage younger patients to postpone LASIK until they have reached their early to mid-20s to ensure their vision is stable. Many people experience mild to moderate fluctuations in their vision prescription through their 20s, and it's recommended to wait until eyesight has stayed the same for about one year before getting LASIK. Waiting for your vision to stabilize offers better LASIK results and reduces the risk of requiring retreatment.
There is no upper age limit for LASIK.
The Effect of Age on LASIK Results in Patients Under and Over 40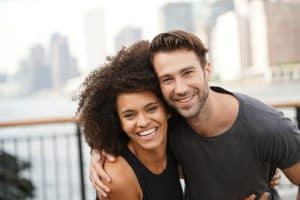 A 2019 study in the International Journal of Ophthalmology examined how age may play a role in the visual and refractive outcomes after LASIK. They compared patients who underwent conventional LASIK with a microkeratome to patients who had all-laser LASIK with a femtosecond laser.
Researchers studied 1,725 eyes with conventional LASIK and 2,101 with all-laser LASIK. They evaluated their results three months after the LASIK procedure for visual symptoms and refractive outcomes and separated them into two age groups: 18 to 40 and over 40. All-laser LASIK provided better safety outcomes than the traditional microkeratome method in both age groups. There was a pattern of under-correction and less predictability with aging after myopic LASIK (nearsightedness correction), regardless of the procedure type. Overall, the femtosecond laser led to significantly better safety, predictability and efficacy outcomes compared to the conventional handheld blade for nearsightedness correction in patients over 40.
The dependence on corrective lenses was reduced in both groups. However, patients over 40 may still require glasses or contact lenses as they age and in low-lighting environments, which may be attributed to presbyopia.
Presbyopia and LASIK
Presbyopia is the loss of clear near vision that naturally happens as you get older. The lens inside the eye hardens and becomes more rigid with age, making it difficult to adjust and provide near vision. The onset of presbyopia is a natural part of aging (similar to wrinkles developing on your skin) and typically happens around age 40 and the condition advances until patients are in their late 60s.
A 2007 study in Ophthalmology evaluated LASIK in patients with presbyopia to determine how effective, safe and predictable laser vision correction is in this age group. They recruited 424 patients and performed conventional or all-laser LASIK with excimer lasers to correct nearsightedness in 511 eyes and farsightedness in 199 eyes, dividing patients into 40-49, 50-59 and 60-69 age groups. Their average ages were 45, 53 and 63.
Researchers found that the older the patient, the worse their nearsightedness and the higher the need for retreatment. However, the procedure was still predictable, safe and effective among all age groups, with 80%-100% of eyes achieving 20/30 or better uncorrected visual acuity (without visual aids) and 81%-90% within one diopter of their target range.
Despite the need for additional laser vision correction in older patients, LASIK for myopia and hyperopia is a good choice for people with presbyopia 40 to 69 years old.
LASIK Outcomes in Patients 65 and Older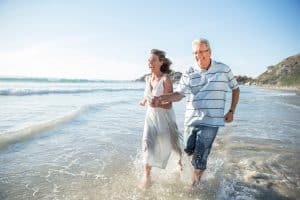 Older generations desire good vision without visual aids, just like younger adults. A 2018 observational study in International Ophthalmology evaluated LASIK outcomes in 24 patients between the ages of 65 and 80. These patients had normal corneal thickness, ocular topography and other qualifying factors for LASIK. They were followed for a year or longer after their laser vision correction: 20 received conventional LASIK for myopia and hyperopia, and four received presbyopic LASIK with monovision to restore vision.
Researchers found that even though senior patients may have more significant LASIK restrictions due to age-related changes to the lens and other parts of the eye, patients 65 and older still achieved satisfactory and safe LASIK outcomes with both procedure types. However, patients 65 and older must be examined for signs of pre-existing eye conditions, such as cataracts, keratoconus, glaucoma, corneal disease and other retinal and optic nerve conditions linked to aging.
What Is Monovision LASIK?
People over 40 with presbyopia may qualify for monovision LASIK, a laser vision correction technique designed to reduce or remove the need for reading glasses. Monovision LASIK corrects one eye for distance (typically the dominant eye) and the other for near vision. Most eye surgeons recommend that people over 60 interested in LASIK receive monovision LASIK to maintain good eyesight at all distances without needing contact lenses or spectacles.
Alternatively, refractive lens exchange, which removes the natural eye lens and replaces it with an artificial intraocular lens implant, is another strong and viable option for these patients given the recent advancement in designer intra-ocular lenses combined with the precision of the femtosecond laser platform.
Schedule a LASIK Consultation in Los Angeles
People with contact lenses or glasses can qualify for LASIK at any age as long as they are over 18, their eyes are healthy, and their vision is stable. Contact Laser Eye Center™ in Los Angeles, California, at (800) 805-2737 to schedule a LASIK consultation with one of our senior ophthalmologists and investigate your vision correction options.
Get started on your journey to clearer, crisper vision with Laser Eye Center™. Our expert team of doctors are trained and skilled in the latest technology and methods for laser vision correction. To learn more about our state-of-the-art All Laser LASIK technology or about All Laser LASIK itself, contact us today. Schedule your FREE All Laser LASIK consultation by calling today.