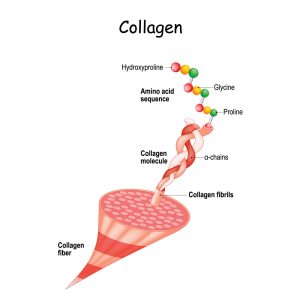 Corneal cross-linking increases and strengthens the chemical bonds with collagen fibers in the eyes to halt the progression of corneal ectasia. Corneal ectasia is the thinning and bulging of the transparent outer tissue of the eye (cornea), typically caused by keratoconus, and may develop after a laser vision correction procedure such as LASIK. Laser Eye Center™ is SoCal's premier laser eye clinic with 30 successful years of helping patients improve their ocular health and vision. Our renowned eye surgeons offer corneal cross-linking.
What Is Corneal Cross-linking?
Collagen is a protein that naturally crosslinks with surrounding fibrils with aging. The ends of collagen chains go through an oxidative deamination reaction that creates natural collagen crosslinks. Oxidative deamination removes amino acids from collagen fibers, forming keto acids and ammonia. This process is likely why keratoconus and other types of corneal ectasia progress faster in adolescence or early adulthood but stabilize as patients reach the age of 40 — corneal cross-linking treatments work by speeding up this natural process and promoting premature cross-linking. The treatment triggers cross-linkage by releasing oxygen free radicals and inducing oxidative deamination.
How Does Corneal Cross-linking Work?
Corneal cross-linking uses riboflavin and UV-A light to increase the number of anchors that bond collagen fibers in order to maintain and strengthen the corneal structure. FDA approved in April 2016, the procedure works by creating a photochemical reaction with a photosensitizer (riboflavin) and UV light source.
Riboflavin is a type of Vitamin B2 molecule that absorbs UV energy and alters the chemicals of other molecules. In corneal cross-linking, riboflavin is absorbed by the stroma, a connective tissue that makes up 90% of the cornea's thickness. Researchers have found that UV-A light sources achieve optimal riboflavin activation and absorption while protecting surrounding eye structures.
The standard protocol for corneal cross-linking is called the Dresden protocol and is based on a 2008 study in Dresden, Germany. Researchers enrolled 272 patients and treated 480 eyes in the group. They followed the patients for three years to note the following results: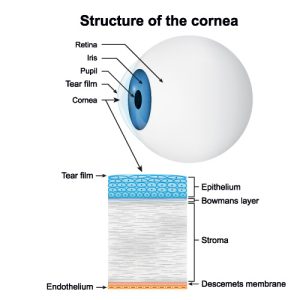 Patients experienced significant improvements in best-corrected visual acuity at the one-year and three-year check-ins.
The cornea's front curvature (keratometry) was significantly decreased one year after corneal cross-linking.
87% of the treated eyes were stable or improved three years after their procedure. (Not all enrolled patients attended follow-up visits three or more years later.)
53% of the treated eyes could see one or more additional lines on a visual acuity test 12 months later.
20% maintained the same visual acuity results at the one-year mark, showing the procedure can halt the progression of corneal ectasia.
Only two patients experienced continued keratoconus progression and required a follow-up cross-linking procedure.
Corneal cross-linking may change or improve refractive errors (astigmatism), corneal shape, uncorrected visual acuity, and best-corrected visual acuity.
The Corneal Cross-linking Procedure
The Dresden protocol improves corneal ectasia in patients with at least 400µm corneal thickness. The procedure steps include the following:
Topical anesthetic drops to numb the eyes.
Remove (debride) approximately seven to nine millimeters at the center of the epitheliums.
One of our ophthalmologists administers .1% riboflavin 5-phosphate drops and 20% dextran solution in five-minute increments for 30 minutes.
The cornea is exposed to UV-A light for 30 minutes, with continued riboflavin drops every five minutes for an additional 30 minutes.
Topical antibiotics are applied to the treated eye(s), and a soft contact lens bandage with oxygen permeability is positioned on the treated eye(s).
The riboflavin drops and UV-A light work together to form stronger collagen fibrils and prevent ectasia progression. Corneal cross-linking may improve vision in some patients. The standard technique is the epithelium-off cross-linking procedure. Other methods may leave the epithelium on or loosen the epithelial cells to create pockets to absorb the riboflavin. However, these approaches are typically less effective.
Is Corneal Cross-linking Safe?
Several bodies of research have shown corneal cross-linking is a safe and effective treatment for corneal ectasia. The riboflavin drops stay within the anterior (front) cornea and stroma, and the eye regrows the removed epithelium within three to four days after the procedure. Corneal cross-linking alters the corneal structure for at least three years and does not significantly affect intraocular eye pressure.
A two-year follow-up study in 2019 on patients with advanced progressive keratoconus found that the standard cross-linking treatment safely stabilized visual acuity and tomographic parameters (three-dimensional images of the corneal surfaces). A 2017 study found corneal cross-linking could stop progressive keratoconus and prevent regression three months after the procedure.
Candidates for Corneal Cross-linking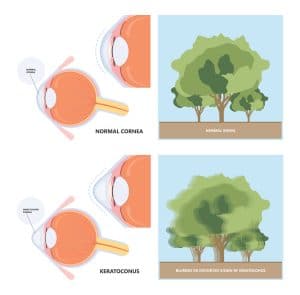 Key qualifications for corneal cross-linking include progressive corneal ectasia, typically keratoconus, but may also include patients with pellucid marginal degeneration, Terrien's marginal degeneration, and post-refractive surgery ectasia (LASIK, PRK, or radial keratotomy). Corneal cross-linking is advised for pediatric patients with keratoconus as soon as possible because the condition can progress aggressively in children. A pediatric study in keratoconus patients between 10 and 18 years old found the procedure provided rapid improvements in corneal function and long-term stability regardless of corneal thickness that lasted at least three years.
The Dresden protocol works for patients with a corneal thickness of at least 400µm. People with a corneal thickness of 320µm to 400µm may benefit from an osmolarity technique that uses a hypo-osmolar riboflavin eye drop applied every three minutes instead of every five. Hypo-osmolar riboflavin artificially thickens thin corneas before cross-linking to protect the endothelium beneath the stroma. A trans-epithelial protocol that disrupts the epithelium cells to improve riboflavin absorption may also be useful for patients with thin corneas.
Discuss your eye health and overall well-being with our ophthalmologists to determine if corneal cross-linking is right for you.
Learn More About Corneal Cross-linking for Corneal Ectasia
If you have corneal ectasia, schedule a consultation at Laser Eye Center™ in Los Angeles, California, at (800) 805-2737 to discuss corneal cross-linking.
Get started on your journey to clearer, crisper vision with Laser Eye Center™. Our expert team of doctors are trained and skilled in the latest technology and methods for laser vision correction. To learn more about our state-of-the-art All Laser LASIK technology or about All Laser LASIK itself, contact us today. Schedule your FREE All Laser LASIK consultation by calling today.