Condition
Computer vision syndrome (CVS) is the name for eye problems that arise from staring at a screen (like a laptop, television or smartphone) for prolonged periods. Patients who have this condition may notice that they have difficulty focusing their eyes or that their eyes feel sore and tired after looking at a screen. They may also develop headaches, blurred vision and general fatigue.
Although experts are still actively researching computer vision syndrome in our increasingly digital world, the optometrists at Laser Eye Center already have the expertise to diagnose computer vision syndrome with a comprehensive eye examination. They can also recommend a course of treatment to improve the comfort of patients' eyes and better protect their vision in the long term.
Treatment
After diagnosing computer vision syndrome, our team of optometrists can devise a customized treatment plan to alleviate your symptoms, which may include eyestrain, headaches, blurred vision, dry eyes, and/or neck and shoulder pain. We also have found that the extent of the symptoms is often correlated with the level of our patients' visual abilities as well as the time they spend staring at digital screens.
Moreover, if glasses are worn for distance vision, reading or both, they may not provide the most efficient vision for viewing a computer screen given that the screen sits about 20 to 30 inches from the eyes. For this, modern LASIK has proven to be an excellent solution since our state-of-the-art technology platform is able to OUTPERFORM contacts and glasses in one in three cases. Additional treatments include iLux and BlephEx procedures, which are focused on the health of the eyes and tear film.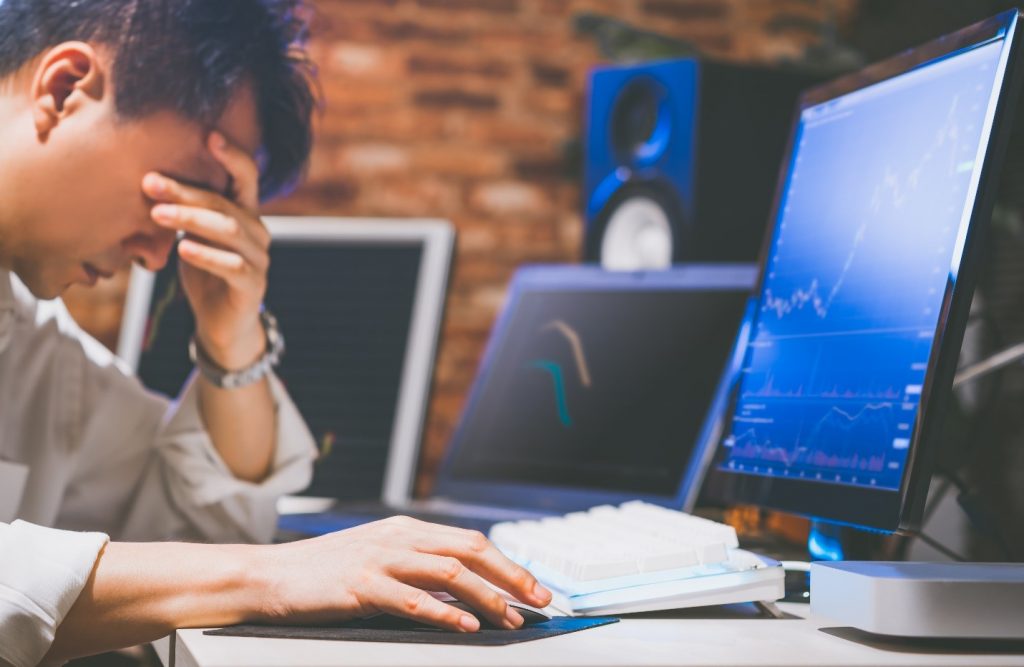 Most (though not all) cases of computer vision syndrome involve people who use prescription eyewear. For many patients, part of the solution may include adjusting the existing prescription or the way eyewear is used to help overcome digital eye strain. Ensuring the health of your meibomian glands — the oil-secreting glands that line your upper and lower eyelid and are core contributors to a healthy tear film — is also essential.
We will also provide you with recommendations such as modifying how long you look at screens, the lighting in the room, the distance you sit from the screen and the angle at which you look at the screen. Adjustments to specific behaviors can help to reduce the strain your eyes experience, even if you cannot cut down on the total time you look at a computer.
Informational Video for Computer Vision Syndrome
Technology
FAQ
1.

IS THERE ANY HOPE TO RELIEVE COMPUTER VISION SYNDROME IF I MUST CONTINUE USING A COMPUTER FOR WORK?
Some occupations require a lot of screen time, so simply abstaining from looking at screens may not be possible. One good tip is the 20-20-20 rule: approximately every 20 minutes, take a 20-second break to look at an object about 20 feet away. This change in focus is a welcome relief for your eyes during prolonged computer use.
2.

HOW COMMON IS COMPUTER VISION SYNDROME?
Given that 90% of U.S. adults look at digital screens for at least two hours per day, computer vision syndrome is prevalent. For those that have desk jobs, the situation is exacerbated by the average 6-8 hours of screen time. In fact, about 70% of American employees who use a computer for work each day develop this condition. Although it is common in the modern world, that does not mean you shouldn't't take it seriously. Taking steps to counter eye strain can help protect the quality of your vision for the future.
3.

CAN CHILDREN GET COMPUTER VISION SYNDROME TOO?
Kids are not immune from computer vision syndrome. In many respects, they may be more vulnerable to this condition. Our optometrists can meet with your kids to diagnose this problem and offer appropriate recommendations to protect their eyes.
Get started on your journey to clearer, crisper vision with Laser Eye Center™. Our expert team of doctors are trained and skilled in the latest technology and methods for laser vision correction. To learn more about our state-of-the-art All Laser LASIK technology or about All Laser LASIK itself, contact us today. Schedule your FREE All Laser LASIK consultation by calling today.