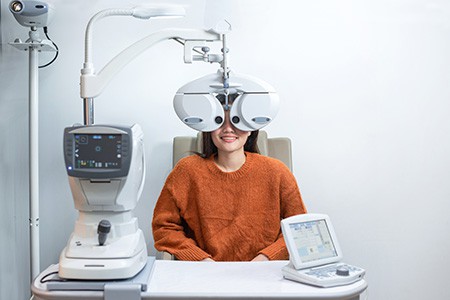 Dry eye disease is more than a nuisance for most people. The burning, stinging, gritty sensations can profoundly impact your quality of life and may cause you to avoid certain activities that worsen your dry eye symptoms. Finding the right treatment for dry eyes starts with seeing the appropriate eye care professional. An ophthalmologist is the most qualified doctor to address dry eye disease because they have the correct imaging equipment and a deeper understanding of the intricate eye structures and mechanisms involved in dry eyes.
Laser Eye Center™ is a premier ophthalmology clinic in Los Angeles County, Santa Clarita Valley, and Inland Empire. We take pride in being the best of the best, and our experienced ophthalmologists have trained many of the eye doctors in the region and nationwide. Our office is a one-stop shop for all eye care needs, including targeted dry eye therapies. What's more, we offer free consults for dry eye as part of our long-term commitment to patient education and empowerment.
What Is an Ophthalmologist?
Ophthalmologists are physicians specializing in treating eye conditions and diseases. These eye doctors learn about hundreds of eye concerns throughout their education and training, including dry eye and other ocular surface issues. An ophthalmologist (and all doctors) must complete an internship training program after they finish medical school.
These doctors then spend at least three years enrolled in a residency training program working under experienced ophthalmologists. They manage patients with dry eyes, macular degeneration, glaucoma, and cataracts. After residency, ophthalmologists are eligible to become board-certified by the American Board of Ophthalmology. Board-certified ophthalmologists, such as our specialists at Laser Eye Center™, are experts in their field.
Why Are Board-Certified Ophthalmologists at the Top of Their Field?
Board-certified ophthalmologists show dedication to their patients and the ophthalmology field throughout their training, going above and beyond minimum requirements. The American Board of Ophthalmology holds stringent standards for physicians to qualify for certification. A physician must meet the following criteria:
Earn their medical degree from an accredited osteopathic or allopathic medical school in the United States or Canada.
Complete a one-year post-graduate clinical year or internship in the U.S. or Canada, where they are the primary physician responsible for patient care in various specialties, including emergency medicine, internal medicine, neurology, family medicine, pediatrics, obstetrics and gynecology, or surgery.
Physicians must spend 36 months (American candidates) or 48 months (Canadian candidates) in an approved residency training program in ophthalmology.
Eye doctors must commit to providing ophthalmic services with respect for human integrity, dignity, and compassion.
The board requires written and oral examinations, including a multiple-choice test and an in-person exam in which they apply their medical knowledge and training to hypothetical clinical scenarios.
Once a physician passes this rigorous, decade-long process, they become diplomates of the American Board of Ophthalmology and must re-certify every 10 years. When it comes to dry eye treatment, you want an ophthalmologist at the top of their field, and that starts with board certification.
Ophthalmologists Continue Their Training Throughout Their Careers
To maintain their board certification and offer patients the best eye care possible, an ophthalmologist must complete annual CME (Continuing Medical Education) courses. This requirement ensures eye doctors stay abreast of new treatments and discoveries about the mechanisms that cause dry eye. Insights from CMEs help our ophthalmologists provide informed and up-to-date treatment plans and ensure Laser Eye Center™ remains the premier eye clinic for dry eyes, eye diseases, and refractive surgery.
Ophthalmologists Have Extensive Training in Dry Eye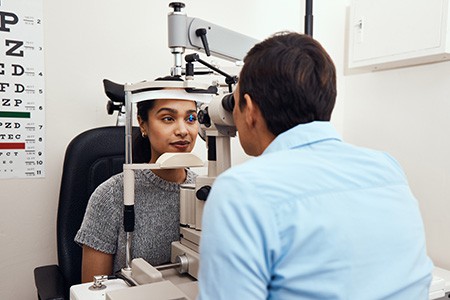 Dry eye is a complex condition that affects each patient differently. You need a unique treatment plan that addresses the root cause of your dry eye symptoms. An ophthalmologist is the best medical professional for treating dry eyes because they have extensive training in dry eye management and are experts on eye conditions. Ophthalmologists have the skills and insight to control dry eye symptoms effectively.
Because of their specialty in treating chronic eye conditions and degenerative diseases, ophthalmologists see more patients with dry eyes, which gives them more experience than any other eye care professional. They know what lifestyle changes will work best for your circumstances and can recognize symptoms that other medical providers might miss.
Ophthalmologists have real-world experience in addition to academic and clinical training. They know how to assess your response to dry eye treatments and have a deeper understanding of the pathophysiology of dry eye disease and how it progresses.
Ophthalmologists Work as Part of a Team of Health Care Professionals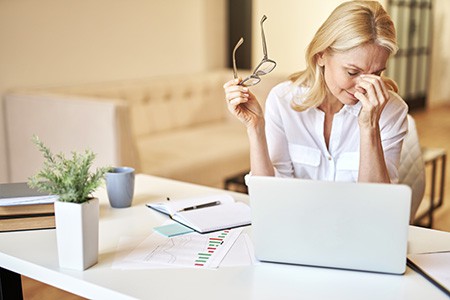 Dry eye disease can be caused by other conditions, such as Sjögren's syndrome, and medications used to manage them. Ophthalmologists work with other health care providers, such as nutritionists that help improve their diet and reduce dry eye symptoms and primary care providers who may prescribe medicines that cause dry eyes. At Laser Eye Center™, we take pride in providing all areas of eye care at our offices, preventing long waits to see specialists at another office or referrals that take months. We work as a team within our clinic and with other providers involved in managing dry eye disease, such as endocrinologists for diabetes.
When to See an Ophthalmologist About Your Dry Eyes
Dry eye disease is a chronic condition for most patients that happens when you have an unhealthy, imbalanced tear film or don't have enough tears. Symptoms of dry eyes are painful and include blurred vision, light sensitivity, watery eyes, stinging, burning, red eyes, and more. Schedule an eye exam and dry eye consultation if you have ongoing symptoms that don't improve with at-home remedies, such as over-the-counter eye drops, warm compresses, reducing screen time, and improving contact lens hygiene.
Contact Laser Eye Center™ in Southern California to schedule your dry eye consultation at one of our six locations. We are SoCal's premier eye clinic and surgical center and offer advanced dry eye treatments. Call (800) 649-2659 to book your appointment today.
SOURCES:
Get started on your journey to clearer, crisper vision with Laser Eye Center™. Our expert team of doctors are trained and skilled in the latest technology and methods for laser vision correction. To learn more about our state-of-the-art All Laser LASIK technology or about All Laser LASIK itself, contact us today. Schedule your FREE All Laser LASIK consultation by calling today.