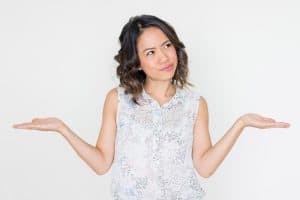 LASIK is one of the most meaningful advancements in healthcare made in the past two decades, helping millions achieve excellent vision with a safe and effective procedure. The technologies and techniques used for laser vision correction have only improved in that time, enhancing results and reducing side effects and complications. Our LASIK specialists at Laser Eye Center™ offer all-laser, bladeless LASIK at our Los Angeles, California, area offices.
Laser Eye Center™ is the most trusted name in refractive and cataract surgery in LA. Our expert ophthalmologists have trained other renowned doctors in the area and boast over 500,000 successful procedures. Our 30-year history has kept us at the forefront of Modern LASIK and other eye surgeries. We can unlock clear vision for you to experience a vibrant life uninhibited by visual aids.
Pros of LASIK
Improved Vision
The most significant advantage of LASIK is improved vision. Our ophthalmologists use Alcon's EX-500 laser, which is considered the gold standard technology for Modern LASIK and can deliver the best-corrected vision in 99% of patients. This technology has the lowest revision rate among LASIK technologies currently available on the market. Most patients reach 20/20 vision with the EX-500 excimer laser, and patients who don't achieve 20/20 still experience dramatically improved vision with little to no requirement for visual aids. The technology is so precise, it is able to split a grain of sand into one thousand precise pieces delivering exceptional results.
Visual Freedom
The visual freedom patients enjoy after LASIK improves their quality of life. You can enjoy swimming and sports activities without the hassle of prescription goggles or glasses that slip or fog. Contact lens wearers no longer worry about forgetting their lens case or accidentally sleeping with their contact lenses still in their eyes. Visual freedom allows you to start and end your day without pesky glasses or contact lenses. Moreover, it enhances your independence and sense of personal security, eliminating any vision handicaps entirely.
Fast Healing
Recovery after LASIK is rapid, with most patients back to work the day after their procedure. Many patients enjoy regular activities within 24 to 36 hours of their LASIK surgery with a few limitations and caveats, such as prescription eye drops and artificial tears, an eye shield worn at night and protecting their eyes from sunlight and bright indoor lighting. You must avoid makeup, lotions, creams and other products used on the face for two weeks, and limit swimming and contact sports for at least the first month.
Pros of All-Laser, Bladeless LASIK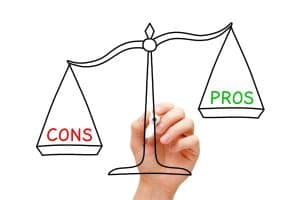 The all-laser approach to LASIK with a femtosecond laser offers several advantages over the conventional microkeratome or handheld blade technique. Traditional LASIK forms the signature flap using an oscillating blade (microkeratome) held in the surgeon's hand. This leaves room for error because of the potential for human error in creating the perfect flap by hand for every procedure. Bladeless LASIK forms the flap with a femtosecond laser, and research has found this approach offers the following benefits:
Fast healing and seamless flap creation that reduces rate of flap-related complications, such as irregular cuts, free caps and buttonholes
More surgical control and choice over the flap's diameter, thickness, hinge position, length and side cut angle
Improved precision and safety with more predictability for flap thickness
Ability to create thinner flaps that accommodate eyes with thin corneas and high refractive errors
No moving parts or handheld blade
Improved contrast sensitivity
Lower rates of epithelial ingrowth during healing
Fewer cases of postoperative dry eyes
Increased flap adherence
Studies show the femtosecond laser is the absolute best in safety standards and offers superior refractive outcomes with fewer visual symptoms and side effects compared to the microkeratome.
Laser Eye Center™ uses the most advanced technologies, including Contoura® Vision Correction, a femtosecond laser and Alcon's EX-500 excimer laser for LASIK results that leave 99% of our patients with excellent vision.
Potential Cons of LASIK
LASIK is regarded as the safest medical procedure in the world in terms of outcomes. Research has demonstrated that serious LASIK complications are rare, and a significant majority of patients are satisfied with their results. However, just like any surgery, it's essential to understand the risks and disadvantages associated with LASIK given that human anatomy is involved.
LASIK's safety profile has been studied by the U.S. Food and Drug Administration (FDA) extensively. More than 300 peer-reviewed studies have investigated LASIK outcomes and complications, and these bodies of research show that an average of 95% of patients are happy with their LASIK results.
Temporary side effects of LASIK may include:
Blurred or hazy vision
Challenges driving at night or with night vision
Dry eye symptoms, including scratchiness and eye irritation
Starbursts, halos or glare seen around lights
Light sensitivity
Eye pain or discomfort
Reduced sharpness of vision
Tiny red or pink patches on the white of the eye (sclera)
However, in extremely rare instances, patients may experience the above symptoms long-term or permanently after LASIK.
Ophthalmologists and researchers continue to study patient satisfaction and LASIK outcomes. A 2016 FDA analysis showed that new laser technologies had decreased the rate of these side effects significantly. The FDA's research revealed modern lasers had reduced night vision difficulties by 29%. They also noted a significant postoperative decrease in visual symptoms among patients who previously had moderate to severe concerns with poor night vision (22%), glare (12%), light sensitivity (9%), reading challenges (8%), halos (6%) and double vision (2%). These differences were reported by study participants 12 months after having LASIK.
Other rare complications include ectasia (bulging or protruding cornea) and over- or under-correction that may require retreatment or corrective lenses. The Contoura® Vision system used at Laser Eye Center™ helps to prevent over- or under-correction by capturing 22,000 unique data points for each eye and ensuring the LASIK procedure addresses higher-order and lower-order aberrations. In fact, the technology outperforms the results from contacts and glasses in 33% of cases.
Inflammation and Infection
Infection and inflammation may occur with any surgical procedure, and LASIK is no exception. However, with the proper precautions, these conditions are uncommon. Prescription eye drops are administered by the patient with detailed instructions after LASIK to lower the risk of infection and minimize inflammation. Infection and inflammation are typically treated with medications effectively and rarely lead to further complications.
Flap Complications
Flap complications, such as a displaced or damaged flap, may occur in a very small number of LASIK patients. Luckily, the all-laser approach reduces the likelihood of any issues affecting the LASIK flap.
Learn More About LASIK at Laser Eye Center™ in Los Angeles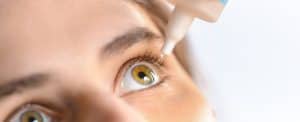 If you're interested in LASIK, contact our expert eye surgeons in Los Angeles to discover your vision correction options and achieve perfect vision without visual aids. Schedule a LASIK consultation at Laser Eye Center™ by calling (800) 805-2737.
Get started on your journey to clearer, crisper vision with Laser Eye Center™. Our expert team of doctors are trained and skilled in the latest technology and methods for laser vision correction. To learn more about our state-of-the-art All Laser LASIK technology or about All Laser LASIK itself, contact us today. Schedule your FREE All Laser LASIK consultation by calling today.