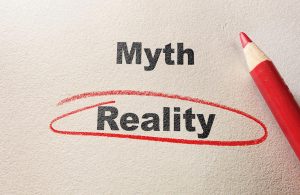 LASIK has an outstanding reputation for helping patients achieve better vision independent from prescription eyeglasses and contact lenses. Unfortunately, many LASIK myths still circulate among the general public. Our LASIK and cataract specialists at Laser Eye Center™ debunk these misconceptions with data and research.
Laser Eye Center™ is the most trusted name in refractive and cataract surgery in Los Angeles, boasting a 30-year track record and over 500,000 successful procedures. We've developed a vast community of patients with good vision and are considered pioneers in Modern LASIK and cataract surgery. We exclusively use the latest technology and focus on providing quality vision care and excellent LASIK outcomes.
LASIK Myth 1: LASIK Is an "Unaffordable" Luxury
According to a 2021 review in Clinical Ophthalmology, two of the main reasons patients delay or avoid laser vision correction are fear and the procedure's affordability. However, a 2021 study in Frontiers in Medicine examined the cost of myopia correction (nearsightedness, a leading cause of vision impairment). These researchers found that contact lenses cost between $198.30 and $378.10 each year, and the average cost of prescription eyeglasses per year was $342.50.
For 30 years of wearing glasses, you could pay up to $10,275 or between $5,949 and $11,343 for contact lenses. These estimated prices don't include the cost of contact lens cases, glasses cleaners, contact solutions and eye exams to update your prescription. Many patients find that the one-time fee of all-laser, bladeless LASIK is affordable in the long term.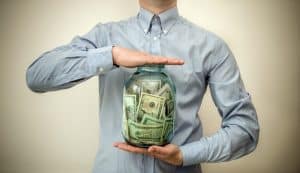 Laser Eye Center™ offers many zero dollars down and zero interest financing options for patients to reduce the up-front expense of LASIK to affordable monthly payments. We provide various plans, including interest-free and no-down-payment options. Our Los Angeles-area offices partner with Wells Fargo Health Advantage, CareCredit, United Medical Credit and Alphaeon to help patients finance their LASIK procedure. We also encourage patients to utilize their flexible spending accounts (FSA) and health savings accounts (HSA). As one of California's longest running and largest all-laser centers, we can offer in-house financing options for patients using our own line of credit.
LASIK is far from "unaffordable," given the many options for financing and lifetime costs of wearing contact lenses and prescription glasses.
LASIK Myth 2: LASIK Involves a Long Recovery
The American Refractive Surgery Council reports that overwhelming evidence shows LASIK is a safe and effective vision correction option. Laser refractive surgery leads to higher patient satisfaction than contact lenses, but there is some misconception about LASIK recovery.
Most patients can resume return to work and most of their normal activities the next day after their procedure. Recovery is "rapid" for many patients, with early healing starting as soon as the flap is placed back over the cornea. It may take up to six months for postoperative side effects to dissipate and vision to stabilize. Eyesight may be blurry right after LASIK, but many patients report they can already see better than before they laid down for the surgery.
LASIK Myth 3: LASIK Eye Surgery Is a Painful Procedure
Numbing eye drops are administered in both eyes before the LASIK procedure. Most patients report slight pressure during the surgery, but do not experience pain. What's more is that the procedure lasts just seconds. Of course, anxious patients may request medication to help them stay calm and relaxed during LASIK.
Slight itching or burning sensations can occur after LASIK, but these symptoms typically dissipate quickly. Overall, LASIK is a virtually pain-free experience, which is one of many reasons why it's such a popular elective procedure.
LASIK Myth 4: I Won't Qualify for LASIK Because of Astigmatism or My Age
Many people erroneously think they won't qualify for LASIK due to their prescription parameters, having astigmatism or being "too old" for LASIK. Studies show people often fear their vision is "too complicated" for LASIK, but this assumption is typically incorrect. The LASIK procedure delivers exceptional visual outcomes for adults of all ages who also have astigmatism or severe nearsightedness or farsightedness.
While the range may change depending on the laser technology, LASIK can generally address an extremely wide range of refractive errors, including:
Astigmatism: Up to 6.0 diopters
Farsightedness: Up to +6.0 diopters
Nearsightedness: Up to -12.0 diopters
Older generations desire better vision and visual freedom from corrective eyewear just like their younger counterparts. In terms of LASIK eligibility, age may play less a role than patients think; as long as you are at least 18 years old, your eligibility depends on the state and health of your eyes, not the number of candles on your next birthday cake. The eye's natural lens must be clear, and patients need to understand that LASIK will not prevent cataracts in the future. Patients over 40 who have developed presbyopia (age-related blurry near vision caused by the hardening of the eye's lens) may be eligible for monovision LASIK, refractive lens exchange or another procedure offered at Laser Eye Center™.
LASIK Myth 5: Side Effects After LASIK Are Common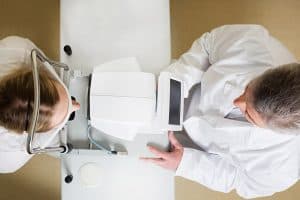 With over 20 million procedures completed in the US alone, laser vision correction has a proved track-record of almost three decades, and new technologies have continuously improved the procedure's safety profile and visual outcomes.
The FDA PROWL study, released in 2022, evaluated potential side effects and complications from LASIK using patient-reported outcomes for symptoms and satisfaction. The study involved 574 subjects who filled out a questionnaire before LASIK and three months after LASIK.
The FDA evaluation found that 59% of patients who experienced dry eye symptoms before LASIK surgery had no signs of dry eyes three months later. Researchers found that patients with glare, ghosting, starbursts and halos around lights before surgery had a positive improvement three months after LASIK. Most patients who completed the survey stated their visual symptoms were gone three months postoperatively.
A 2016 study published in Ophthalmology compared contact lens wearers and LASIK patients over three years for visual satisfaction. The rate of nighttime visual disturbances and challenges driving at night was significantly reduced after LASIK among former contact lens wearers, demonstrating that LASIK may improve night driving for some patients.
In summary, LASIK is proven to be the safest medical procedure in the world in terms of outcomes achieved and has been proven to permanently and positively alter the lives of its beneficiaries by providing true visual freedom and independence.
Schedule Your LASIK Consultation at Laser Eye Center™
If you're interested in LASIK, contact Laser Eye Center™ to determine your vision correction options and pursue visual freedom from contact lenses and glasses. Schedule a LASIK consultation with one of our senior ophthalmologists in Los Angeles, California, at (800) 805-2737.
Get started on your journey to clearer, crisper vision with Laser Eye Center™. Our expert team of doctors are trained and skilled in the latest technology and methods for laser vision correction. To learn more about our state-of-the-art All Laser LASIK technology or about All Laser LASIK itself, contact us today. Schedule your FREE All Laser LASIK consultation by calling today.