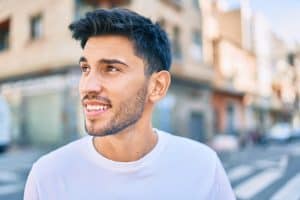 An estimated 230 million American adults, or 75% of the adult population in the U.S., require corrective eyewear for clear vision; and, approximately 50% of people with nearsightedness, farsightedness and astigmatism wear glasses and 14% use contact lenses. These visual aids improve vision but quickly become a hassle for your work or social life and may impede your ability to enjoy sports and other activities. Losing the visual aids may also compromise you and your loved one's physical safety due to interrupted vision.
More and more people choose LASIK every year to achieve perfect, independent vision without corrective eyewear. LASIK surgery is quick, with most patients in and out of the surgical suite and recovering in less than two hours. A rapid recovery means most patients achieve 20/20 vision within 24 hours of their laser vision correction.
At Laser Eye Center™, we offer all-laser, bladeless LASIK with a record 98.7% patient satisfaction rate based on achieving the corresponding best-corrected vision among our patients.
As pioneers in Modern LASIK, our success rate is higher than the national average and we are celebrated for having a technology platform with one of the lowest touch up rates. Our experienced team and advanced technologies achieve optimal LASIK results with a low need for retreatment. We are SoCal's original Laser Eye Center™ and the most trusted name in the region for refractive and cataract surgery. Our senior ophthalmologists have trained renowned doctors in the area and have a 30-year history with more than 500,000 successful procedures.
LASIK Safety and Effectiveness
LASIK is one of the most studied procedures in modern medicine, with over 7,000 clinical research studies since it was approved by the U.S. Food and Drug Administration in 1999. On average, LASIK achieves 20/20 vision for more than 90% of patients, and 95% are satisfied with their LASIK results. These statistics are improving with advanced technology and new LASIK techniques.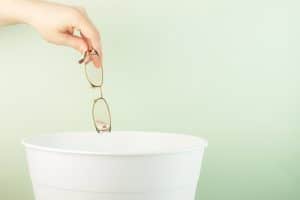 Using a femtosecond laser for all-laser LASIK has vastly improved the rate of complications — such as dry eyes, glare, poor night vision, halos and light sensitivity — in recent years. The femtosecond laser technology works faster than instruments used in conventional LASIK, allows for a quicker procedure and reduces recovery time. Wavefront technology and topography-guided systems (such as Contoura® Vision Correction) allow for more accurate corneal surface mapping and programming of excimer lasers for better visual outcomes. The result is exceptional visual outcomes where even the quality of vision improves enhancing color vibrancy, texture and depth perception, as well as contrast.
While patients may still experience occasional surgical aftereffects, they're often short-lived and resolve within three months after Modern LASIK.
LASIK Success Rates According to FDA PROWL Studies
The FDA has released several comprehensive studies on Patient Reported Outcomes With LASIK (PROWL-1, PROWL-2 and PROWL-SS). The organization found across these studies that over 95% of LASIK patients were satisfied with their vision and less than 1% of them had difficulties with their normal activities after LASIK related to visual symptoms such as glare, double vision (a.k.a., "ghosting"), halos, dry eye or starbursts.
The FDA PROWL studies included 262 and 312 patients, respectively, and are the most extensive prospective LASIK studies ever completed that examined quality of life among patients. Overall, their research determined that LASIK improves quality of life and pre-existing visual symptoms and, like all surgery, comes with some side effects and risks.
In the PROWL-1 study, the average patient was 29.1 years old, and 99% of participants had 20/20 vision or better three months after LASIK. In the PROWL-2 trial, the average patient was 31.5 years old, and 96% achieved 20/20 or better eyesight at the three-month mark. Only one eye in one patient lost two or more lines of best-corrected visual acuity three months after LASIK.
Satisfaction Rates Among LASIK Patients
Patient satisfaction among the FDA's PROWL-1 and PROWL-2 studies showed:
96% were satisfied with their eyesight three months after LASIK.
63.1% and 53.5% of patients were "completely satisfied," respectively.
31.1% and 38.1% were "very satisfied," respectively.
4.5% and 4.6% were "somewhat satisfied," respectively.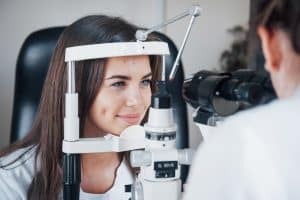 In total, 98% and 97% of PROWL-1 and PROWL-2 patients were satisfied with their LASIK results. This rate exceeded that of many other surgical procedures. The overall dissatisfaction rate for LASIK was just 4%. These FDA studies did not allow for retreatment, or enhancement surgery, which may have further reduced the dissatisfaction rate. Some patients who were unhappy with their results may have improved over time, given that dry eye symptoms are typical three months after LASIK and tend to resolve within the first year.
An Experienced LASIK Surgeon and Advanced Center Improves Outcomes
The quality of the vision center and eye surgeon directly impacts your LASIK results. Patients may be more likely to experience ongoing side effects or unsatisfactory results if they choose a discounted surgeon using outdated, under-serviced machinery. Be wary of deals that seem too good to be true, such as $199 LASIK procedures, as these are often misnomers to get patients in the door. Low-rate LASIK is often limited to patients requiring only minor corrections and may not include necessary pre-operative testing and post-operative appointments.
Choosing a LASIK specialist is a crucial decision that will affect your visual and refractive outcomes. Make sure you read online reviews and testimonials and ask questions about the eye surgeon's qualifications and experience during your consultation.
At Laser Eye Center™, we upgrade to the newest, most advanced technologies as soon as the data supports the transition. Our eye surgeons utilize the most effective lasers and topography-guided systems to plan and perform LASIK. Our Los Angeles-area refractive surgery centers have a 99% success rate for best-corrected vision among patients.
Learn More About Your LASIK Options
If you're interested in LASIK, schedule a consultation at Laser Eye Center™ to discuss your vision correction options and achieve visual independence from contact lenses and glasses. Contact our ophthalmologists in Los Angeles, California, at (800) 805-2737.
Get started on your journey to clearer, crisper vision with Laser Eye Center™. Our expert team of doctors are trained and skilled in the latest technology and methods for laser vision correction. To learn more about our state-of-the-art All Laser LASIK technology or about All Laser LASIK itself, contact us today. Schedule your FREE All Laser LASIK consultation by calling today.