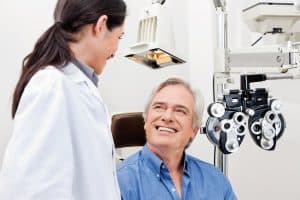 LASIK is a quick and safe procedure with one of the highest success rates in medicine. The actual laser vision correction lasts seconds, and patients spend about two hours or less in the office completing diagnostic tests, paperwork, and financing.
At Laser Eye Center™, we offer all-laser, bladeless LASIK technology platform combined with a topography-guided system to achieve the best-corrected vision in 98.7% patient satisfaction rate.
Laser Eye Center™ is considered a pioneer in Modern LASIK and cataract surgery, exclusively offering the latest technology for laser vision correction.
Our ophthalmologists have a 30-year history with more than 500,000 successful procedures performed. We focus on the entire patient-care journey with in-office optometrists and ophthalmologists that don't fractionate the patient experience and provide excellent financing plans.
LASIK Consultation
The LASIK procedure starts with a consultation at one of our Los Angeles, California offices. You will meet with one of our senior ophthalmologists to discuss your LASIK eligibility and why you want to have laser vision correction. We will go over your expectations, such as wishing to get rid of contact lenses or glasses, and go over your options.
The consultation involves taking a thorough inventory of your:
Medical and Family History: Be prepared to discuss medical conditions or health concerns that affect you or your immediate family members, including diabetes, autoimmune disease and eye conditions, such as ocular herpes or a history of strabismus (crossed eyes).
Medications: Our eye doctors need to know all the medications, supplements and herbal remedies you're currently taking. Some medications, such as Imitrex™, Accutane™ and antihistamines, can cause issues with LASIK recovery and corneal wound healing.
Lifestyle: Social use of alcohol and cigarettes can affect healing after LASIK. Our eye doctors also need to understand your career and hobbies. Athletes may have a higher risk of flap complications if they return to the field, court or pool before their eyes are ready.
Eye Examination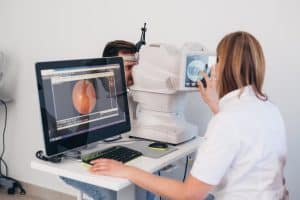 Our eye doctors will assess your corrected and uncorrected visual acuity to determine refractive errors. Please bring your current vision prescription and prescription eyeglasses or contact lenses to your appointment. We will test for both nearsightedness and farsightedness to ensure you don't have latent hyperopia (farsightedness) to prevent over- or under-correction with LASIK.
Our eye doctors will perform a comprehensive eye exam with various tests. They will examine the general health of your cornea and conjunctiva to assess your vision as well as clear you for any signs of dryness or infection, as well as other corneal irregularities, scarring, and other conditions that may interfere with LASIK. Additionally, you will be screened for any undiagnosed issues, such as old infections in the cornea and iris. The exam will also look at the crystalline eye lens for signs of a cataract. Our ophthalmologists are thorough with our eye exams and testing for LASIK eligibility to ensure that your eyes are otherwise healthy.
Topography Measurements With Contoura® Vision Correction
Corneal topography, or computerized videokeratography, provides imaging of the front and back of the corneal surface. This technology is used to diagnose, characterize and map the cornea and determine its thickness. Laser Eye Center™ uses Contoura® Vision Correction, a topography-guided system that captures 22,000 unique points on each eye compared to the 10,000 points found with conventional LASIK technology. The Contoura® system allows our eye doctors to identify and address corneal irregularities that are major and minor for a truly customized laser vision correction procedure with outstanding visual outcomes. The measurements captured with Contoura® are used to program the laser for LASIK surgery.
Step 1 of the LASIK Procedure: Eye Preparation
All-laser, bladeless LASIK starts with numbing the eyes with local anesthetic eye drops and placing an eyelid holder to prevent blinking. A suction ring is placed on the ocular surface to stop the eye from moving, and patients often report this feels like a finger pressing on the eyelid. Vision will dim or blacken at this time.
Patients are awake during the LASIK procedure, and each eye takes about 10 minutes to treat, including approximately one minute of laser shaping.
Step 2: Flap Creation With A Femtosecond Laser
Flap creation is the most crucial step of LASIK eye surgery and affects the visual outcome of the procedure. For all-laser LASIK, a femtosecond laser is used to disrupt the corneal tissue at a preset depth to create bubbles of water and carbon dioxide. These bubbles expand and separate, forming a plane (or flap) that folds back, revealing the underlying tissues of the cornea. Forming the LASIK flap with a laser allows for a more precise and uniform flap in terms of thickness, length, diameter, angle and hinge.
Laser Eye Center™ uses a femtosecond laser for Modern LASIK instead of the traditional microkeratome method involving an oscillating blade held in the surgeon's hand. Bladeless LASIK with the femtosecond laser significantly speeds up healing and reduces the risk of flap complications with better precision. The all-laser approach offers more vision correction for people with high refractive errors and thin corneas.
Patients may experience a sensation of pressure during flap creation with laser technology.
Step 3: Corneal Reshaping With Alcon's EX-500 Laser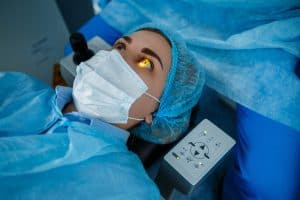 The third major step in LASIK is the excimer laser which uses pre-determined measurements from Contoura® Vision Correction to smooth and reshape the cornea for proper light refraction. The EX-500 laser by Alcon is the gold standard for excimer lasers and provides the best-corrected vision 99% of the time. This technology also features the lowest revision rate among lasers on the market.
During the corneal reshaping portion of LASIK, you will be asked to look at a light to stop your eye from moving, and you will hear a clicking sound while the laser is in use.
Step 4: Repositioning the LASIK Flap
When the excimer laser has finished correcting the corneal shape, the LASIK flap is folded back into its original position. The edges of the flap are smoothed, and the corneal fibers begin healing within minutes.
Most patients have LASIK performed in both eyes at once. When one eye is complete, the procedure starts on the next eye. Patients typically see more clearly immediately after LASIK, depending on their previous refractive errors. However, blurriness is expected for the first one to two days of LASIK recovery.
Schedule a LASIK Consultation at Laser Eye Center™
Learn more about your vision correction options and achieve excellent vision free from visual aids. Schedule a consultation with our experienced ophthalmologists in Los Angeles, California, by calling (800) 805-2737.
Get started on your journey to clearer, crisper vision with Laser Eye Center™. Our expert team of doctors are trained and skilled in the latest technology and methods for laser vision correction. To learn more about our state-of-the-art All Laser LASIK technology or about All Laser LASIK itself, contact us today. Schedule your FREE All Laser LASIK consultation by calling today.