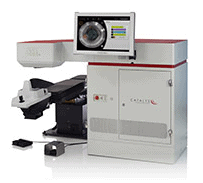 For patients in need of cataract surgery, our Los Angeles-based laser eye surgeons of Laser Eye Center™ proudly offer the Catalys precision laser system. This cutting edge technology allows for laser assisted cataract surgery that includes liquid optics with an integral guidance system for the surgeon. Older techniques involve using an ultrasonic hand-held machine with a steel tip to break apart the cataract-affected lens in the eye.
The Catalys also uses a proprietary 3D imaging system to map the surface of the eye, allowing our surgeon to customize treatment for our patient. As such, the femtosecond laser pulses are delivered to the eye with extraordinary precision. This system also provides a gentle dock for the patient, minimizing rise in eye pressure during the surgery and lessening ocular redness after the surgery. The result is enhanced safety, greater precision, and faster recovery time.
Laser assisted cataract surgery provides a predictable, noninvasive technique to an age old problem. The advanced features of the Catalys system allows our surgeons to deliver quality results, time and time again.
Get started on your journey to clearer, crisper vision with Laser Eye Center™. Our expert team of doctors are trained and skilled in the latest technology and methods for laser vision correction. To learn more about our state-of-the-art All Laser LASIK technology or about All Laser LASIK itself, contact us today. Schedule your FREE All Laser LASIK consultation by calling today.