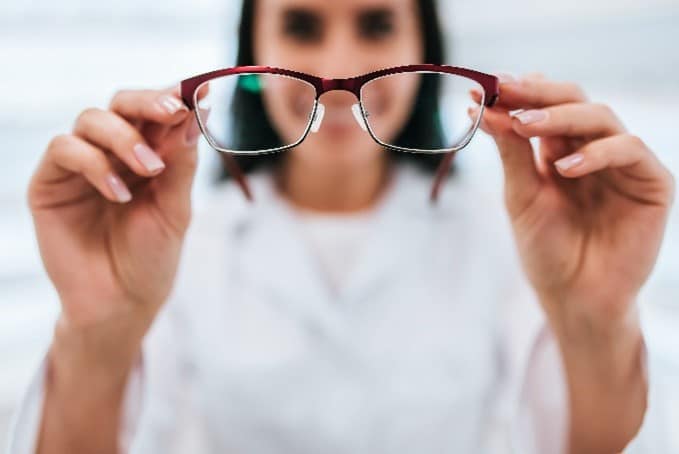 Los anteojos son una forma confiable de corregir los errores de refracción. Pero si ha usado anteojos durante un período prolongado de tiempo, comprende lo molestos que pueden ser cuando trabaja, hace ejercicio o disfruta de sus pasatiempos favoritos. Además, la dependencia de una ayuda visual también puede generar ansiedad en caso de pérdida o daño. Gracias a las opciones de corrección permanente de la visión como LASIK, PRK y los lentes de colámero implantables (ICL) de Visian, puede decir adiós a las molestias de las gafas para siempre.
Aquí, el equipo de Laser Eye Center revela tres razones para obtener una corrección permanente de la visión y no usar anteojos en 2021.
1. PARA VERSE Y SENTIRSE CONFIADO
Uno de los comentarios que escuchamos todo el tiempo de nuestros pacientes de corrección de la visión es que deshacerse de los anteojos es un refuerzo de confianza. Muchos de nuestros pacientes se sentían avergonzados por la forma en que se veían con anteojos o por las barreras visuales que enfrentaban a diario. Puede relacionarse con la sensación de que no puede mostrar su verdadera identidad debido a sus anteojos.
Deshacerse de las gafas ofrece la libertad de conectarse con las personas y el mundo que lo rodea de una manera espontánea y sin preocupaciones. Después de la corrección de la visión, no hay nada que se interponga entre usted y las personas con las que desea conectarse, o entre usted y las actividades que enriquecen su vida. Puede establecer conexiones nuevas y auténticas y disfrutar de aventuras a las que no podía acceder cuando dependía de las gafas.
Todo nuestro equipo en Laser Eye Center cree genuinamente que someterse a una corrección permanente de la visión es una experiencia transformadora, y no solo cambiará la forma en que ve el mundo que lo rodea, sino también la forma en que se ve a sí mismo. ¡Estamos ansiosos por verte convertirte en tu mejor y más feliz yo!
2. PARA AHORRAR DINERO
Las incertidumbres de la pandemia de COVID-19 nos han enseñado muchas lecciones, incluida la importancia de ahorrar para un día lluvioso. Si usa anteojos, probablemente gaste mucho dinero en reemplazar sus lentes, mejorar sus monturas y pagar exámenes de la vista para mantener su receta actualizada. ¿Por qué no eliminar los costos relacionados con los anteojos al obtener LASIK, PRK o ICL?
Aunque el costo único de la cirugía ocular con láser o las ICL puede parecer costoso, en realidad es mucho más económico que lo que pagaría por anteojos a largo plazo. Corregir su visión de forma permanente y decir adiós a los anteojos puede ahorrarle una enorme cantidad de dinero a lo largo de su vida.
Laser Eye Center facilita el pago del costo de LASIK o PRK en incrementos mensuales asequibles. Puede recibir tratamiento ahora y pagarlo con el tiempo.
3. SOBRESALIR PROFESIONALMENTE
Deshacerse de los anteojos con corrección permanente de la visión puede tener un impacto tremendamente positivo en su carrera. Tal vez pasa muchas horas frente a una computadora y no usar anteojos puede hacerlo más cómodo y productivo. O tal vez tenga una carrera creativa como fotógrafo o artista, donde un buen ojo sin anteojos puede ayudarlo a concentrarse en los detalles finos. Para algunas ocupaciones, una buena visión sin anteojos no es solo una opción, es un requisito.
LASIK, PRK y la colocación de ICL no requerirán mucho tiempo fuera del trabajo; muchos de nuestros pacientes regresan al trabajo tan pronto como el día después del tratamiento.
MÁS INFORMACIÓN SOBRE LA CORRECCIÓN PERMANENTE DE LA VISIÓN
Los oculistas de Laser Eye Center son considerados pioneros de la cirugía ocular moderna con láser. Ofrecemos la tecnología más avanzada disponible y compartimos un compromiso inquebrantable con la atención excepcional del paciente y los resultados visuales sobresalientes. Para obtener más información sobre si LASIK, PRK o ICL pueden ayudarlo a lograr sus objetivos en 2021, solicite una consulta con nosotros hoy.
Get started on your journey to clearer, crisper vision with Laser Eye Center™. Our expert team of doctors are trained and skilled in the latest technology and methods for laser vision correction. To learn more about our state-of-the-art All Laser LASIK technology or about All Laser LASIK itself, contact us today. Schedule your FREE All Laser LASIK consultation by calling today.