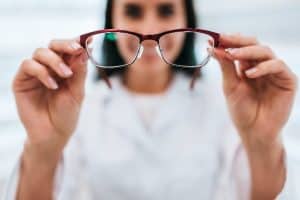 Glasses are a reliable way to correct refractive errors. But if you have worn glasses for any extended period of time, you understand how burdensome they can be when working, exercising or enjoying your favorite hobbies. Moreover, the dependence on a visual aid can also lead to anxiety in the case they are lost or damaged. Thanks to permanent vision correction options like LASIK, PRK and Visian implantable collamer lenses (ICLs), you can say farewell to the inconvenience of glasses for good.
Here, the team at Laser Eye Center reveals three reasons to get permanent vision correction and go glasses-free in 2021.
1. To Look and Feel Confident
One of the comments we hear all the time from our vision correction patients is that getting rid of glasses is a confidence booster. Many of our patients were embarrassed by the way they looked in glasses or by the visual barriers they faced on a daily basis. You may relate to feeling as though you can't showcase your true identity because of your glasses.
Getting rid of glasses offers the freedom to connect to the people and world around you in a spontaneous and carefree way. After vision correction, there is nothing standing between you and the people with whom you want to connect, or between you and the activities that enrich your life. You can form new, authentic connections and enjoy adventures that may not have been accessible back when you were dependent on glasses.
Our entire team at Laser Eye Center genuinely believes that undergoing permanent vision correction is a transformational experience, and it will not only change how you see the world around you, but how you see yourself. We can't wait to watch you become your best and happiest self!
2. To Save Money
The uncertainties of the COVID-19 pandemic have taught us many lessons, including the importance of saving for a rainy day. If you wear glasses, you probably spend a lot of money on replacing your lenses, upgrading your frames and paying for eye tests to keep your prescription up to date. Why not eliminate your glasses-related costs by getting LASIK, PRK or ICLs?
Although the one-time cost of laser eye surgery or ICLs may sound expensive, it is actually much cheaper than what you would pay for glasses over the long haul. Getting your vision permanently corrected and saying goodbye to glasses can save you an enormous amount of money over your lifetime.
Laser Eye Center makes it easy to pay for the cost of LASIK or PRK in affordable monthly increments. You can have treatment now and pay for it over time.
3. To Excel Professionally
Getting rid of glasses with permanent vision correction can have a tremendously positive impact on your career. Maybe you spend long hours in front of a computer, and going glasses-free can make you more comfortable and productive. Or perhaps you have a creative career as a photographer or artist, where a keen eye without glasses can help you focus on the fine details. For some occupations, good vision without glasses isn't just an option — it's a requirement.
LASIK, PRK and the placement of ICLs won't require much time away from work; many of our patients return to work as soon as the day after treatment.
Learn More About Permanent Vision Correction
The eye doctors at Laser Eye Center are widely regarded as pioneers of modern laser eye surgery. We offer the most advanced technology available and share an uncompromising commitment to exceptional patient care and outstanding visual results. For more information about whether LASIK, PRK or ICLs can help you achieve your goals in 2021, please request a consultation with us today.
Get started on your journey to clearer, crisper vision with Laser Eye Center™. Our expert team of doctors are trained and skilled in the latest technology and methods for laser vision correction. To learn more about our state-of-the-art All Laser LASIK technology or about All Laser LASIK itself, contact us today. Schedule your FREE All Laser LASIK consultation by calling today.