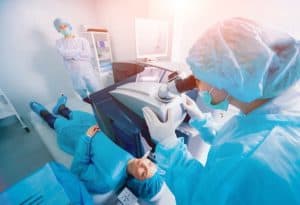 La cirugía ocular LASIK puede cambiar su vida, liberándolo de usar lentes de contacto a diario o de depender de anteojos recetados. En Laser Eye Center en Los Ángeles, nuestros cirujanos oculares pueden determinar si LASIK es la mejor manera de mejorar su vista. Este procedimiento seguro y eficaz ha proporcionado una excelente visión a decenas de millones de personas.
¿Usted también podría lograr una gran visión con LASIK? Aquí hay 8 señales de que usted podría ser el candidato perfecto para LASIK:
1. Está listo para una visión independiente y de calidad.
Los pacientes de LASIK logran una visión de calidad sin ayudas visuales. Esto los coloca en el 33 por ciento superior de la población mundial en términos de tener una visión perfecta. Después de someterse a LASIK, los pacientes pueden conectarse con el mundo a través de sus propios ojos, sin filtros. La espontaneidad y la independencia también se logran de manera crucial.
2. Está cansado de usar lentes de contacto o anteojos recetados.
Muchos candidatos a LASIK han usado lentes de contacto o anteojos durante años, incluso décadas. Tocarse los ojos varias veces al día para ponerse y quitarse los lentes de contacto es una molestia, y los anteojos se pierden, rayan o doblan fácilmente. Los candidatos también entienden que los anteojos son una tecnología de más de 1000 años y están listos para la visión de superar esta tecnología arcaica. ¡LASIK puede liberarlo de los anteojos correctivos e incluso superar los lentes de contacto y anteojos en el 33 por ciento de los casos!
3. Gozas de buena salud en general.
Cualquier condición médica que pueda tener, como la diabetes, debe controlarse bien. La buena salud física se traduce en excelentes resultados de LASIK. Los problemas de salud, como el nivel de azúcar en la sangre no controlado, afectan su salud ocular y pueden causar daños duraderos en los vasos sanguíneos de los ojos. Necesita ojos sanos antes de LASIK.
4. Tiene una prescripción de visión estable por un año o más.
Su visión se ha estabilizado, lo que significa que su prescripción se ha mantenido igual durante uno o dos años. Una prescripción estable puede conducir a mejores resultados de LASIK y puede evitar un procedimiento de revisión más adelante.
5. Tiene ojos y córnea sanos.
Su salud ocular juega un papel fundamental en la candidatura a LASIK, es decir, no debe tener ninguna afección o enfermedad ocular, como cataratas, glaucoma o enfermedad diabética del ojo. Nuestros oculistas evaluarán su salud ocular durante su examen de la vista y consulta LASIK.
6. Actualmente no está embarazada.
Las hormonas del embarazo afectan su visión e incluso la forma de sus ojos. La producción de lágrimas, la sensibilidad a la luz y las fluctuaciones de la visión son comunes durante el embarazo a medida que cambia la curvatura y el grosor de la córnea. Lo mejor es esperar para someterse a LASIK hasta que su visión vuelva a ser estable.
7. Tienes más de 18 años.
LASIK está aprobado por la FDA para adultos mayores de 18 años. Su visión cambia a lo largo de su adolescencia y es importante esperar hasta que su vista haya terminado de evolucionar antes de someterse a una cirugía ocular LASIK.
8. Está listo para los resultados de LASIK que le cambiarán la vida.
LASIK es una excelente manera de mejorar su visión con una recuperación corta; ¡la mayoría de la gente vuelve al trabajo al día siguiente! Una mejor visión sin lentes de contacto o anteojos recetados puede cambiar su vida. Puede disfrutar de la natación y otras actividades que normalmente son una carga con lentes de contacto y anteojos, y es posible que tenga más confianza.
Si está interesado en LASIK, comuníquese hoy con Laser Eye Center en Los Ángeles para programar su consulta.
Get started on your journey to clearer, crisper vision with Laser Eye Center™. Our expert team of doctors are trained and skilled in the latest technology and methods for laser vision correction. To learn more about our state-of-the-art All Laser LASIK technology or about All Laser LASIK itself, contact us today. Schedule your FREE All Laser LASIK consultation by calling today.