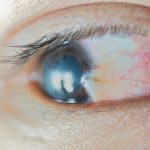 Pterygium, also known as "surfer's eye," is a benign, elevated growth that begins on the conjuctiva (the white part of the eye) and can move onto the cornea. In most cases, pterygium must be surgically removed to relieve discomfort and restore a normal-looking appearance to the eye. Pterygium surgery is a safe procedure that can be performed in-office in about 30 minutes. If you are interested in undergoing pterygium surgery, you should know that there is a chance for recurrence (regrowth) after the procedure. In this blog post, the eye experts at Laser Eye Center™ explain why this is and what can be done to prevent recurrence.
Why Pterygium Regrowth Occurs
Recurrence rates vary widely among current studies on pterygium regrowth. While some studies have reported rates as high as almost 40 percent, others report rates as low as 5 percent. Other studies have found that recurrence is higher among individuals who had their pterygium removed during the summer months, possibly because overexposure to the sun has been linked to pterygium development. Other factors that can increase the risk of recurrence include dusty and windy conditions.
What We Do to Prevent Recurrence
The eye doctors at Laser Eye Center™ have years of collective experience and training relating to removing pterygium. Our team is also knowledgeable of the latest and most advanced surgical methods to reduce the possibility of recurrence, including using a special "auto-graft" technique. This technique involves removing an unaffected portion of the conjunctiva and suturing it onto the affected area. Some studies have found that this auto-grafting technique can lower pterygium recurrence rate to less than 5 percent. Following your procedure, our team will schedule follow-up appointments with you to monitor your progress. We will also make recommendations on medications or steps you can take to minimize the chances of recurrence.
Learn More from Laser Eye Center™
To learn more about pterygium surgery or any of the other services we offer, including laser vision correction, schedule a FREE consultation with Laser Eye Center™. Please call (800) 80-LASER (52737) today and a member of our team will gladly speak with you.