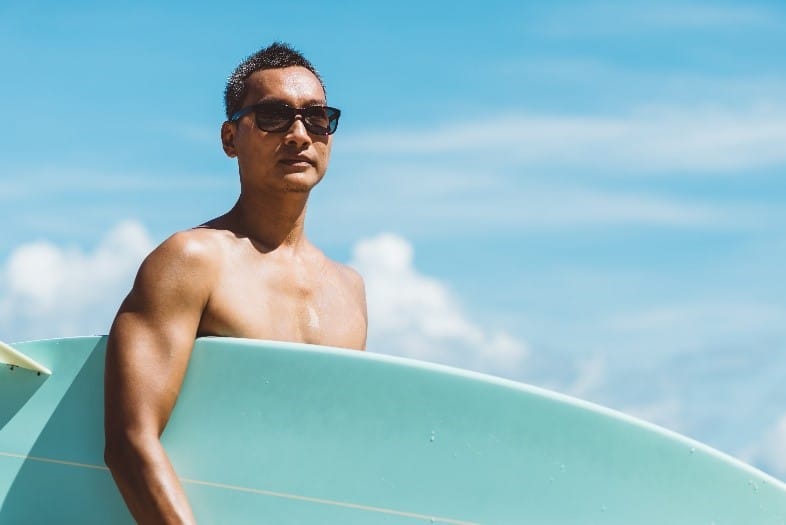 Si pasa mucho tiempo al aire libre y ha notado un crecimiento carnoso en la parte blanca de su ojo, culpe a los elementos. La exposición al sol, el viento, el agua salada y la arena están relacionados con el desarrollo de carnosidad, una lesión benigna que se ha descrito como incómoda y antiestética.
En esta publicación, Laser Eye Center le presenta a un paciente (nombre eliminado por motivos de privacidad) que fue diagnosticado y tratado por carnosidad.
Un Surfista Obtiene "Ojo de Surfista"
Siempre me ha gustado surfear. Mi abuelo me enseñó cuando era joven y trato de salir al agua al menos 5 o 6 días a la semana. Pero mi amor por el surf ha pasado factura a mis ojos. Verá, hace unos años, noté un crecimiento inusual en la parte blanca de mi ojo izquierdo. Comenzó a arder y picar, y mi visión incluso comenzó a cambiar a medida que el crecimiento crecía.
Un día visité a mi abuela, quien notó el crecimiento y me dijo que mi difunto abuelo experimentó algo similar. Ella lo llamó carnosidad y dijo que era por la irritación causada por el agua salada, el sol y la arena. Incluso lo llamó "ojo de surfista".
Por un tiempo, toleré los cambios de visión y la incomodidad. Pero luego comencé a ser objeto de burlas por parte de mis compañeros de trabajo. Trabajo en un equipo de construcción, y todos bromeamos entre nosotros. Mis compañeros de trabajo comenzaron a burlarse de mí por llegar al trabajo borracho o drogado porque mis ojos siempre se veían inyectados en sangre.
Traté de ignorarlo, pero un día, mi supervisor me hizo a un lado para preguntarme si estaba bien. Me dijo que parecía como si no hubiera dormido en una semana. Me sentí avergonzado cuando admití que no era insomnio, sino un crecimiento inusual que hacía que mi ojo pareciera inyectado en sangre. Afortunadamente, mi jefe tenía un miembro de la familia al que le extirparon una carnosidad en Laser Eye Center. Cuando llegué a casa esa noche, solicité una consulta en Laser Eye Center para discutir mi caso. El equipo diagnosticó oficialmente mi carnosidad y explicó mis opciones. Podría esperar y monitorearlo con el tiempo, o podría someterme a un procedimiento para eliminarlo. Laser Eye Center explicó cuán común es que la carnosidad se repita y dijo que usan una técnica de injerto especial para prevenir la recurrencia.
Después de una cuidadosa consideración, decidí programar la cirugía. No podía arriesgarme a más acusaciones sobre beber o consumir drogas en el trabajo.
Ya Nadie Hace Comentarios Sobre Mi Apariencia
El día de mi cirugía transcurrió mejor de lo que podría haber imaginado. Mi ojo estaba completamente adormecido y tomé medicamentos para relajarme. La atención que recibí de Laser Eye Center fue absolutamente increíble.
La parte más difícil de la recuperación fue evitar que el agua llegara a mi ojo en proceso de curación. Debía tener mucho cuidado al ducharme y, por supuesto, no pude surfear durante unas semanas. Pero la espera valió la pena.
Mi ojo ya no se ve inyectado en sangre y ya nadie comenta sobre mi apariencia. Mi ojo no pica ni arde. Puedo ver más claramente que antes. Estoy feliz de haber dado el paso y haber tenido una cirugía de extirpación de pterigión. Estoy aún más feliz de haber encontrado Laser Eye Center, porque me cuidaron muy bien.
Reserve una consulta en Laser Eye Center
No permita que una carnosidad interfiera con su apariencia, comodidad o visión por más tiempo. Reserve una consulta en Laser Eye Center hoy para discutir sus opciones de tratamiento.
Get started on your journey to clearer, crisper vision with Laser Eye Center™. Our expert team of doctors are trained and skilled in the latest technology and methods for laser vision correction. To learn more about our state-of-the-art All Laser LASIK technology or about All Laser LASIK itself, contact us today. Schedule your FREE All Laser LASIK consultation by calling today.