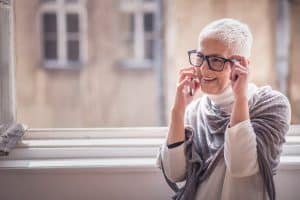 Los cirujanos de cataratas de Laser Eye Center tienen la suerte de estar en una posición en la que ayudamos a nuestros pacientes a recuperar la visión clara que disfrutaron en sus años de juventud. Pero entendemos que para muchas personas, la idea de la cirugía puede ser aterradora.
Si nota que su visión disminuye a los 60 o 70 años debido a las cataratas, pero no está seguro de someterse a una cirugía, puede ser beneficioso que escuche a un ex paciente de cataratas (que desea permanecer en el anonimato).
Pensé que esto era solo una forma de vida
Siempre he sido una persona activa e independiente, incluso a mediados de los 70. Estoy jubilado, vivo solo y disfruto leyendo novelas de misterio y jugando al golf.
Con el tiempo, noté que mi visión se volvía más nublada y borrosa. Las etiquetas de mis medicamentos se estaban volviendo más difíciles de leer. Además, mi visión decreciente hacía que el golf fuera más frustrante que placentero. Mi oftalmólogo me diagnosticó cataratas y me dijo que programara una consulta con un cirujano de cataratas, pero no pude programar una cita.
En el fondo de mi mente, me preocupaba que las cataratas pudieran hacer que me resultara difícil manejar para hacer las compras, o que pudiera tropezarme, caerme y lastimarme. Sin embargo, seguía diciéndome que la mayoría de las personas de mi edad sentían lo mismo y que era solo una forma de vida.
Un día estaba conversando con mi hermana gemela cuando mencionó que su visión se había deteriorado y que pronto se sometería a una cirugía de cataratas. Siempre ha sido un poco aprensiva con la cirugía, así que me sorprendió que se sintiera cómoda con la idea de que algo hiciera contacto con su ojo.
Hablamos nuevamente unas semanas después de su procedimiento y explicó lo rápido y e indoloroso que fue. Ya estaba viendo con más claridad y se sentía lo suficientemente cómoda para ir a sus clases de ejercicios. En su opinión, la cirugía valió la pena.
Empecé a reconsiderar mi propia postura sobre la cirugía de cataratas. Si mi hermana hubiera notado una mejora tan grande en su visión, ¿tendría yo la misma suerte? Decidí reservar una consulta en Laser Eye Center para obtener más información.
Al final de mi consulta, me sentí lo suficientemente cómodo para programar mi operación. El procedimiento en sí fue muy fluido, terminó casi tan pronto como comenzó, y mi recuperación fue bastante rápida.
Darme cuenta de lo que me estaba perdiendo
A medida que mi visión se estabilizó después de la cirugía, se hizo evidente que me había estado perdiendo bastante con las cataratas. Los pequeños detalles son más ricos y los colores son más vibrantes de lo que recuerdo. Puedo leer letra pequeña y ver claramente las señales de tráfico cuando conduzco. Puedo reconocer caras amigas en el campo de práctica (y estoy golpeando la pelota más lejos que nunca).
Mi opinión sobre las cataratas es completamente diferente: no son "solo una forma de vida". Muchos de mis temores acerca de la cirugía eran completamente infundados. Gracias a los avances tecnológicos actuales, la cirugía de cataratas no fue una experiencia aterradora ni dolorosa.
Comuníquese con Laser Eye Center hoy Si se siente inspirado para tomar el control de su visión, al equipo de Laser Eye Center le encantaría conocerlo y contarle más sobre la cirugía de cataratas. Programe una consulta con nosotros hoy por teléfono o correo electrónico.
Get started on your journey to clearer, crisper vision with Laser Eye Center™. Our expert team of doctors are trained and skilled in the latest technology and methods for laser vision correction. To learn more about our state-of-the-art All Laser LASIK technology or about All Laser LASIK itself, contact us today. Schedule your FREE All Laser LASIK consultation by calling today.