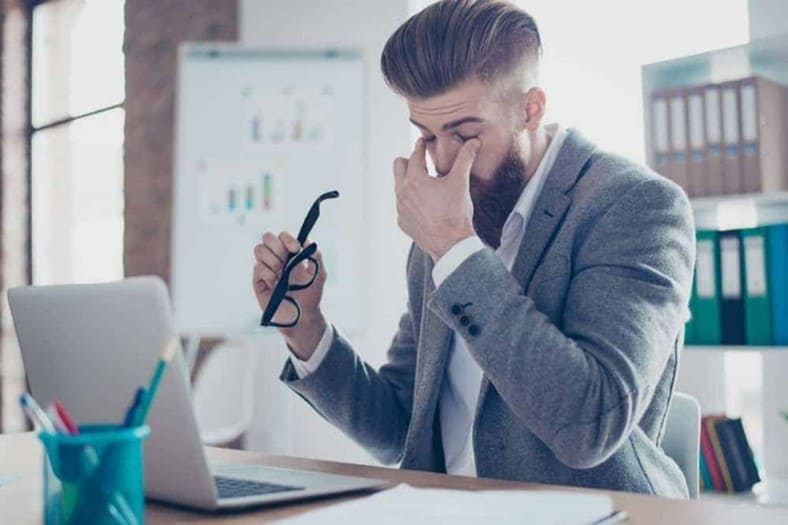 El ojo seco es una de las enfermedades más comunes que vemos en Laser Eye Center, y algo que nos esforzamos constantemente por comprender mejor. Solo en los EE. UU., hay 30 millones de personas que sufren de ojo seco.
El ojo seco puede afectar la calidad de vida y los síntomas incluyen sequedad, ojos cansados, enrojecimiento, irritación, ardor y escozor, y ojos llorosos o con picazón. En casos severos, la enfermedad del ojo seco puede interferir con las actividades diarias y afectar muchos aspectos de la calidad de vida. Puede afectar la lectura y la conducción, y causar sentimientos de ansiedad, estrés y depresión.
Sin embargo, dada la generalidad de los síntomas, muchos pacientes que sufren de ojo seco no se dan cuenta de que esta es la causa de sus síntomas hasta que un optometrista los diagnostica formalmente. Como tal, es fundamental ofrecer a nuestros pacientes con ojo seco tratamientos seguros y efectivos como el sistema iLux. Gracias a iLux, hemos podido cambiar la vida de nuestros pacientes con ojo seco y eliminar su sufrimiento crónico. Tómese un momento para aprender cómo.
Llega Al Centro Del Problema
iLux no solo trata los síntomas de la enfermedad del ojo seco, sino que aborda el núcleo: la disfunción de las glándulas de Meibomio (MGD), que es la causa principal de la enfermedad del ojo seco y representa aproximadamente el 86 por ciento de los diagnósticos.
Las glándulas de Meibomio en los párpados producen aceites que forman una cubierta protectora sobre la película lagrimal del ojo. Cada vez que parpadeamos, estos aceites se levantan para cubrir la superficie del ojo y sirven para evitar que las lágrimas naturales de los ojos se evaporen. A veces, estas secreciones aceitosas pueden espesarse (como la mantequilla), bloqueando u obstruyendo las glándulas de Meibomio. Las causas de los bloqueos u obstrucciones incluyen la contaminación, así como nuestro estilo de vida controlado por computadora en el que pasamos de seis a nueve horas frente a una pantalla, que a su vez interrumpe nuestro parpadeo.
Sin las secreciones aceitosas, las lágrimas se evaporan demasiado rápido de la superficie de los ojos y los ojos se secan. Si no se trata, las glándulas de Meibomio bloqueadas u obstruidas pueden atrofiarse y morir, lo que hace que la condición no sea reversible.
Alivio Significativo De Los Síntomas
Por primera vez, iLux permite a los especialistas del cuidado de la visión intervenir y restaurar la función normal de las glándulas para lograr una película lagrimal más sana y aliviar los síntomas. Este es un avance significativo sobre las metodologías de tratamiento anteriores que incluyen lágrimas y tapones artificiales.
En lugar de calmar momentáneamente los síntomas del ojo seco (como se logra a través de las lágrimas artificiales), iLux brinda un alivio significativo y duradero y evita la sequedad y la picazón en los ojos, la visión borrosa, la sensibilidad a la luz y la sensación de tener algo atorado en el ojo. De hecho, el alivio de los síntomas con iLux puede durar de seis a ocho meses.
Conveniente Tratamiento En El Consultorio
El tratamiento iLux es un tratamiento no quirúrgico ni farmacológico que se puede administrar durante una visita al consultorio. El dispositivo de mano iLux es portátil y no intrusivo. Cuando se coloca sobre los párpados, aplica calor terapéutico de forma rápida y cómoda a las glándulas de Meibomio para derretir los aceites espesados; a continuación, el dispositivo aplica una presión suave para extraer manualmente los aceites obstruidos. Todo el proceso dura unos ocho minutos y se ha descrito como un cálido masaje para los ojos.
Más Información Sobre Ilux
Si sufre los incómodos síntomas de la enfermedad del ojo seco, merece un alivio duradero. Llame al (800) 805-2737 o envíenos un correo electrónico hoy para obtener más información sobre los beneficios del tratamiento iLux.
Get started on your journey to clearer, crisper vision with Laser Eye Center™. Our expert team of doctors are trained and skilled in the latest technology and methods for laser vision correction. To learn more about our state-of-the-art All Laser LASIK technology or about All Laser LASIK itself, contact us today. Schedule your FREE All Laser LASIK consultation by calling today.