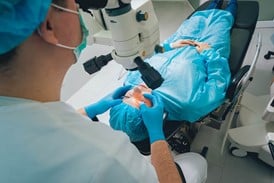 Muchos de los pacientes de Laser Eye Center que se han sometido a LASIK describen la cirugía como un milagro. Ser capaz de despertar y ver casi todos los detalles en visión de alta definición, sin anteojos ni lentes de contacto, parece nada menos que mágico. Pero no se equivoque: LASIK no es magia. ¡En realidad fue desarrollado en base a una ciencia muy avanzada!
Comprender cómo y por qué funciona LASIK requiere una comprensión básica de la biología, la física y la tecnología láser. Siga leyendo mientras el equipo de Laser Eye Center explica por qué se realiza LASIK y qué esperan lograr los cirujanos.
LA FUNCIÓN DE LA CORNEA
LASIK se realiza en la córnea, el tejido transparente en forma de cúpula que forma la parte frontal del ojo. (Puede pensar en la córnea como la "ventana" del ojo). La córnea es responsable de la mayor parte del poder de enfoque del ojo. La luz de los objetos cercanos y distantes ingresa al ojo a través de la córnea, y la córnea refracta o desvía esa luz hacia el tejido en la parte posterior del ojo llamado retina.
Sin embargo, este proceso no siempre es perfecto. Según el Instituto Nacional del Ojo, más de 150 millones de estadounidenses experimentan errores de refracción, que son problemas con la forma en que la córnea enfoca la luz.
ENTENDIENDO LOS ERRORES REFRACTIVOS
El error de refracción más común es la miopía o miopía. Con la miopía, la curvatura de la córnea es demasiado pronunciada, lo que hace que la luz se enfoque frente a la retina. Alguien que es miope puede ver claramente los objetos de cerca, pero tiene dificultades para ver los objetos lejanos.
La hipermetropía, o hipermetropía, ocurre cuando la córnea carece de curvatura y es demasiado plana. Esto hace que la luz se enfoque detrás de la retina. Una persona hipermétrope puede ver claramente los objetos lejanos, pero tiene problemas para ver los objetos cercanos.
El astigmatismo es una curvatura irregular o asimétrica (es decir, una curvatura demasiado pronunciada en una dirección) de la córnea. Hace que los rayos de luz se dispersen sin llegar a un punto adecuado en la retina. Alguien con astigmatismo tiene problemas con la visión tanto de cerca como de lejos.
¿CÓMO CORRIGE LASIK LOS ERRORES REFRACTIVOS?
LASIK trata de forma permanente los errores de refracción remodelando la córnea para que pueda refractar correctamente la luz en la retina. Durante LASIK, un láser de última generación extrae cantidades microscópicas de tejido, refinando la curvatura de la córnea.
En las personas miopes, el láser reduce la inclinación o nitidez de la córnea. En las personas hipermétropes, el láser aumenta la inclinación de la córnea. En personas con astigmatismo, el láser mejora la tersura y simetría de la córnea.
Para muchos pacientes, la visión es mejor después de LASIK que lo que se podía lograr antes con anteojos o lentes de contacto. Los pacientes generalmente descubren que ya no necesitan ayudas visuales (o solo las necesitan en raras ocasiones o para ciertas tareas).
Si está interesado en obtener más información sobre el síndrome de visión por computadora y este increíble procedimiento de corrección de la visión, Laser Eye Center lo invita a programar una consulta con un miembro de nuestro equipo.
Llame al (800) 805-2737 o complete nuestro formulario de contacto en línea para solicitar una cita en una de nuestras 12 ubicaciones en el área de Los Ángeles.
Get started on your journey to clearer, crisper vision with Laser Eye Center™. Our expert team of doctors are trained and skilled in the latest technology and methods for laser vision correction. To learn more about our state-of-the-art All Laser LASIK technology or about All Laser LASIK itself, contact us today. Schedule your FREE All Laser LASIK consultation by calling today.