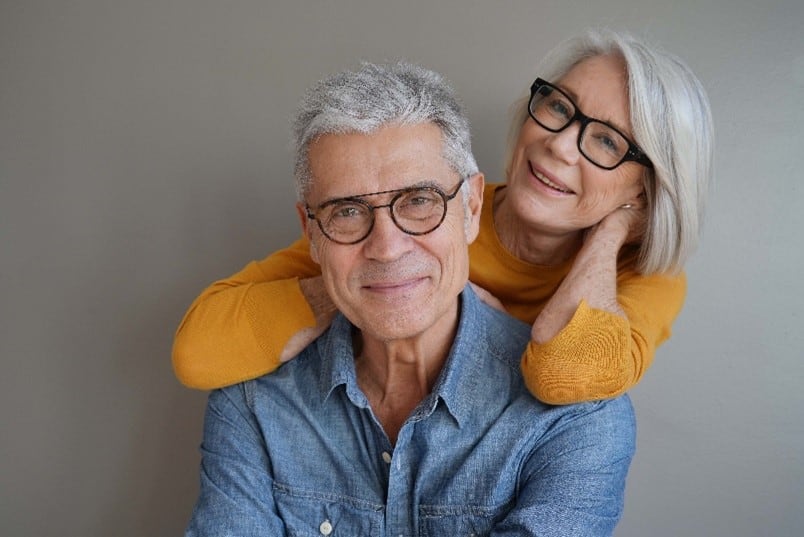 Observar el efecto del género en la salud puede ser complicado. Las mujeres tienden a vivir más que los hombres, pero es más probable que reporten problemas de salud. Cuando se trata de la enfermedad del ojo seco, los datos son claros: las mujeres se ven afectadas en tasas desproporcionadamente más altas que los hombres. Comprender las razones de esta disparidad ayuda a Laser Eye Center a brindar la mejor atención posible a nuestros pacientes.
¿Por Qué el Ojo Seco es Más Común en Las Mujeres?
Hay varias razones por las que las mujeres son más propensas a desarrollar la enfermedad del ojo seco que los hombres.
El ojo seco está estrechamente relacionado con las fluctuaciones hormonales en las mujeres. Cuando los niveles de estrógeno, progesterona y/o testosterona de una mujer fluctúan, como ocurre durante el embarazo, la menopausia o mientras toma anticonceptivos orales, puede afectar la calidad y cantidad de sus lágrimas.
El ojo seco está altamente relacionado con enfermedades autoinmunes/inflamatorias como el lupus, la enfermedad de la tiroides y la artritis reumatoide, las cuales son más frecuentes en mujeres que en hombres.
Algunos de los ingredientes que se encuentran en el maquillaje de ojos de las mujeres pueden ser ásperos e irritantes para los ojos. Estos ingredientes pueden diluir la película lagrimal, haciendo que las lágrimas se evaporen rápidamente de la superficie de los ojos.
El ojo seco se vuelve más común con la edad. Estadísticamente, las mujeres viven más que los hombres y constituyen un porcentaje mayor de la población de pacientes mayores.
Los signos y síntomas del ojo seco suelen ser los mismos tanto en hombres como en mujeres: escozor, picor, ardor, sensación de cuerpo extraño, sensibilidad a la luz y dolor.
Buscar atención profesional para la enfermedad del ojo seco
Por lo general, las mujeres se inclinan más que los hombres a buscar atención experta para problemas médicos, incluido el ojo seco. Además, las mujeres tienden a buscar el diagnóstico y el tratamiento en una etapa más temprana de la enfermedad del ojo seco que los hombres. Muchos hombres posponen la búsqueda de tratamiento hasta que sus síntomas son más graves.
A pesar de las diferencias en la frecuencia y las causas del ojo seco en hombres y mujeres, Laser Eye Center ofrece la misma excelente atención a todos nuestros pacientes que sufren las molestias de la enfermedad.
Siempre comenzamos por determinar el tipo específico de síntomas que causan el ojo seco. Tomamos un historial médico completo, realizamos un examen ocular completo y revisamos todos los medicamentos del paciente para identificar cualquier cosa que pueda afectar la calidad o la cantidad de las lágrimas. Se pueden ordenar pruebas adicionales según sea necesario para confirmar o descartar el ojo seco.
Por lo general, la primera línea de defensa contra la enfermedad del ojo seco es el uso de gotas medicadas para lubricar los ojos. Si no vemos suficientes resultados con la terapia médica, pasamos a otras opciones, como iLux. Esta es la primera intervención verdadera para el ojo seco: iLux no solo enmascara los síntomas, sino que trata la fuente.
Aunque no puede controlar su sexo, puede controlar las decisiones que toma sobre su salud y bienestar. Si experimenta los síntomas incómodos del ojo seco, comuníquese con Laser Eye Center para obtener ayuda. Llámenos al (800) 805-2737 o envíenos un correo electrónico hoy.
Get started on your journey to clearer, crisper vision with Laser Eye Center™. Our expert team of doctors are trained and skilled in the latest technology and methods for laser vision correction. To learn more about our state-of-the-art All Laser LASIK technology or about All Laser LASIK itself, contact us today. Schedule your FREE All Laser LASIK consultation by calling today.