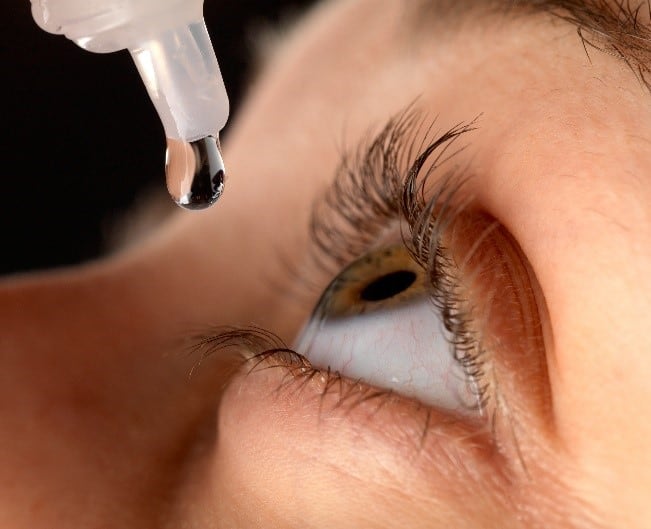 El ojo seco es una enfermedad crónica y progresiva.
En un esfuerzo por controlar sus síntomas, las gotas para los ojos se recomiendan tradicionalmente para lograr el alivio de los ojos secos, con picazón o irritados. Pero como cualquier medicamento, existen límites en la duración de su eficacia, así como en la cantidad de gotas para los ojos que se deben usar. Las gotas para los ojos de venta libre y las controladas generalmente tienen recomendaciones de uso diario y no están diseñadas para usarse regularmente más allá de un período de unas pocas semanas. La única excepción es si su médico le indica que los use a diario.
De hecho, el uso excesivo de gotas para los ojos puede hacer más daño que bien a largo plazo, según el equipo de Laser Eye Center. Este es el por qué:
Una Solución A Corto Plazo Frente A Una Solución A Largo Plazo
Las gotas para los ojos son una solución rápida para el alivio instantáneo del ojo seco. Sin embargo, si excede regularmente las recomendaciones de uso diario o las considera una cura para su afección, es posible que esté exacerbando sus problemas oculares.
Digamos que usa gotas para los ojos medicadas para el enrojecimiento de los ojos. Las gotas funcionan contrayendo los vasos sanguíneos de la esclerótica (es decir, la parte blanca del ojo), lo que se ocupa de la irritación o el enrojecimiento. Pero tan pronto como deja de tomar las gotas, sus vasos sanguíneos se agrandan y se enrojecen para entregar el oxígeno y los nutrientes que tanto necesita la esclerótica. Esto provoca un efecto de "rebote" que puede hacer que te vuelvas dependiente de las gotas.
O, si sus ojos están secos y le pican todo el tiempo, puede usar lágrimas artificiales para ayudar a hidratarlos. Pero el uso excesivo de lágrimas artificiales en realidad puede lavar las propias lágrimas naturales de su ojo, haciendo que sus ojos se sequen aún más.
Es importante destacar que las lágrimas artificiales no son una cura para los ojos secos. En el 86% de los casos de ojo seco, el culpable es un problema de las glándulas de Meibomio de los párpados. Estas glándulas recubren los párpados superior e inferior y son el sitio de producción de la película de aceite natural. Cuando parpadeamos, levantamos los aceites producidos en nuestras glándulas de Meibomio, cubriendo así la superficie del ojo y evitando que las lágrimas se evaporen. Con el tiempo, las glándulas de Meibomio pueden bloquearse u obstruirse con secreciones aceitosas debido a factores ambientales como la contaminación y nuestro estilo de vida sedentario en el que miramos la pantalla de una computadora durante un promedio de 6 a 9 horas por día. El mal funcionamiento de las glándulas de Meibomio hace que las lágrimas naturales del ojo se evaporen demasiado rápido de la superficie de los ojos. Como resultado, los ojos se secan. Peor aún, si las glándulas obstruidas no se tratan a tiempo, mueren y hacen de la enfermedad una condición crónica e irreversible.
Es importante destacar que ninguna cantidad de gotas para los ojos puede abordar la causa raíz del ojo seco y restaurar la función adecuada de la glándula de Meibomio, pero un tratamiento conveniente en el consultorio sin medicamentos llamado iLux sí puede. El dispositivo portátil iLux aplica una combinación de calor terapéutico y presión suave en las glándulas de Meibomio para derretir y exprimir los aceites espesados y restaurar la secreción normal de aceite en la película lagrimal del ojo. El tratamiento dura unos ocho minutos y no duele en absoluto. Los resultados son significativos y duraderos, ya sea como medida preventiva o para tratar glándulas ya obstruidas. Similar a una limpieza profunda en un dentista, la mayoría de las personas experimentan un alivio significativo y duradero con iLux, que dura aproximadamente seis meses.
Para obtener más información sobre cómo aliviar la incomodidad de la enfermedad del ojo seco con iLux, llame al (800) 805-2737 o envíe un correo electrónico a Laser Eye Center hoy.
Get started on your journey to clearer, crisper vision with Laser Eye Center™. Our expert team of doctors are trained and skilled in the latest technology and methods for laser vision correction. To learn more about our state-of-the-art All Laser LASIK technology or about All Laser LASIK itself, contact us today. Schedule your FREE All Laser LASIK consultation by calling today.