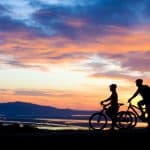 The benefits of exercise are indisputable. Consistent physical activity is great for your cardiovascular health, your mental health and the health of your eyes!
Here, Laser Eye Center™ shares a few reasons that walking, running, swimming, dancing and other physical activities can help keep your eyes healthy and prevent disease.
Control Health Problems
Many eye diseases are linked to systemic health problems — for example, diabetes and diabetic retinopathy. Working out can help control diabetes and other conditions (such as high blood pressure or high cholesterol), and limit eye-related complications.
Reduce Risk of Age-Related Macular Degeneration
Studies have shown that exercise can reduce the risk of age-related macular degeneration (AMD). One study of 3,800 people showed that people who worked out three times a week had a smaller chance of developing AMD than people who did not work out at all. The team behind the study insists that it is not the strenuousness of the activity that matters, but the time spent exercising that helps reduce the risk of AMD.
Lower Intraocular Pressure
Some experts also believe that regular physical exercise may lower intraocular pressure and improve blood flow to the retina and optic nerve, which is very important for preventing glaucoma.
If you aren't currently active, remember that it's never too late to start. You don't have to run marathons or lift heavy weights for health benefits. What's important is that you are moving your body consistently. Start walking during your lunch break with a coworker, or go dancing on the weekends with your spouse.
When Your Vision Affects Your Activity Level
Are you a regular runner or athlete that suffers from myopia, hyperopia or astigmatism? Are you tired of wearing glasses or contact lenses every time you suit up for a game or a run?
Consider having All Laser LASIK to correct the refractive error that hampers your eyesight. Most of our All Laser LASIK patients enjoy the sweet freedom from glasses and contacts after surgery. They have told us that it is much easier to hit the pavement or jump in the game without worrying about bothersome visual aids.
For more information about how All Laser LASIK can improve your vision, your activity level and your quality of life, please contact Laser Eye Center™ today. Call 800-80-LASER and schedule a consultation with our team.
Get started on your journey to clearer, crisper vision with Laser Eye Center™. Our expert team of doctors are trained and skilled in the latest technology and methods for laser vision correction. To learn more about our state-of-the-art All Laser LASIK technology or about All Laser LASIK itself, contact us today. Schedule your FREE All Laser LASIK consultation by calling today.