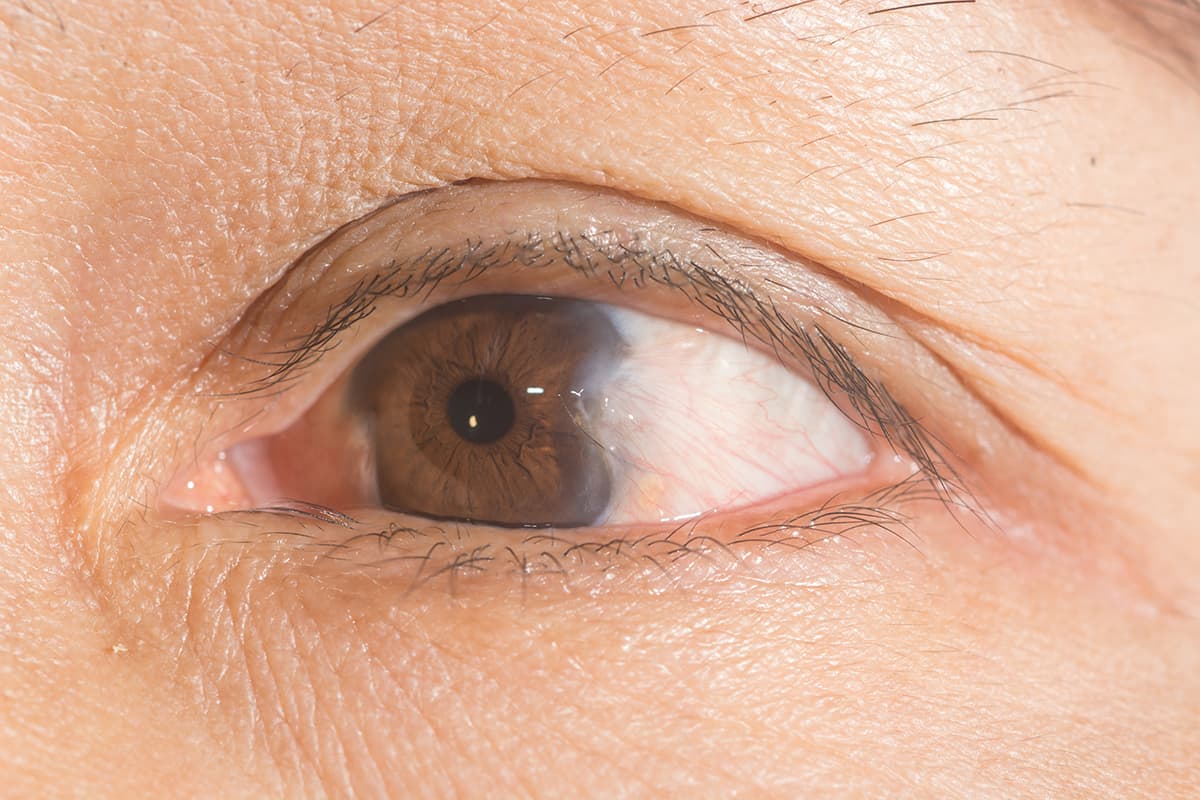 Las personas que pasan la mayor parte de su vida bajo el sol, especialmente cerca del ecuador, tienen un mayor riesgo de Carnosidad. Este crecimiento carnoso en forma de ala se desarrolla en la conjuntiva, la membrana mucosa translúcida que cubre el ojo y recubre el interior de los párpados. La exposición prolongada a los rayos UV y la sequedad relacionada con los profesionales al aire libre, como surfistas, agricultores y pescadores, pueden causar Carnosidad y provocar enrojecimiento, hinchazón e irritación de los ojos que pueden convertirse en visión borrosa o bloqueada.
Nuestros especialistas del cuidado de los ojos en Laser Eye Center™ en Los Ángeles entienden el impacto que la Carnosidad tiene en la vida de las personas y ofrecen tratamientos de Carnosidad para restaurar la salud de los ojos y la visión.
La Carnosidad puede causar síntomas dolorosos
La Carnosidad no es una preocupación que ponga en peligro la vida, presenta síntomas graves que pueden afectar su calidad de vida. El crecimiento elevado de color carne puede provocar resequedad crónica en los ojos, picazón, sensación de ardor y una sensación de arena en el ojo. Algunas personas pueden tener lagrimeo involuntario. A medida que avanza la condición, la Carnosidad puede causar visión doble y visión borrosa, lo que afectará su capacidad para hacer su trabajo de manera segura y efectiva.
Las personas que usan lentes de contacto pueden encontrar los lentes demasiado incómodos y necesitan cambiar a anteojos recetados.
La Carnosidad afecta la función y la estética del ojo
En inglés, la Carnosidad recibe el sobrenombre de "Ojo de surfista" debido a su prevalencia en la comunidad de surfistas, pero cualquiera que pase sus días al sol sin protección para los ojos está en riesgo. Algunos crecimientos se propagan lentamente, mientras que otros progresan rápidamente y provocan problemas importantes y requieren cirugía. Los agricultores, pescadores y otras personas que viven con Carnosidad que deben continuar trabajando en condiciones soleadas pueden necesitar tratamiento o cirugía si el crecimiento causa estos problemas oculares:
Movimiento ocular restringido
Problemas con el eje visual (o problemas de visión causados ​​por desalineación multifocal)
Pérdida de visión por astigmatismo
Aumento del tamaño del Carnosidad
Irritación y enrojecimiento significativos
Por último, las personas avergonzadas por el crecimiento carnoso pueden querer que se lo eliminen por razones estéticas, y querer blanquear sus ojos ya que la condición a menudo se confunde con ebrio y/o bajo la influencia de las drogas. En algunos casos, las personas han perdido sus trabajos solo por este motivo.
Prevalencia de Carnosidad en latinos
Según la Biblioteca Nacional de Medicina, las tasas de Carnosidad fueron altas en esta población de latinos. La prevalencia de Carnosidad fue alta (en general, 16%). Los hombres tenían una tasa más alta que las mujeres (23,7% frente a 11,5%, respectivamente).
Los marcadores de estatus socioeconómico para una mayor exposición a la luz solar sugieren que este puede ser el objetivo de intervenciones simples para reducir el riesgo de Carnosidad en esta población étnica.
¿Cómo se trata la Carnosidad?
Inicialmente, se utilizan gotas oftálmicas lubricantes y gotas oftálmicas con esteroides para controlar las etapas iniciales del Carnosidad, pero estas son soluciones temporales. El Carnosidad generalmente requiere extirpación quirúrgica.
La cirugía de Carnosidad es un procedimiento de rutina. En Laser Eye Center™, nuestros cirujanos utilizan una técnica especial de "autoinjerto" para reducir las posibilidades de recurrencia o crecimiento. Esta técnica de autógrafos es un avance sobre las metodologías anteriores, lo que reduce el riesgo de recurrencia del 75 % a alrededor del 25 %.
Este procedimiento autógrafo involucra gotas anestésicas para adormecer el ojo, y luego uno de nuestros cirujanos oculares experimentados elimina el crecimiento. A continuación, se extrae tejido conjuntival sano del propio párpado superior del paciente y se implanta en el lugar de la cirugía para lograr una cicatrización y unos resultados óptimos. El pegamento de fibrina adhiere el tejido trasplantado a la córnea y reduce el tiempo de recuperación, la inflamación y las molestias.
Laser Eye Center™ es el nombre más confiable en cirugía refractiva y de cataratas, y nuestros especialistas en atención ocular han realizado más de 500 000 procedimientos exitosos. Nuestros cirujanos oculares le explicarán el proceso de extracción del Carnosidad y determinarán qué pasos se deben tomar para la salud de su visión.
Programe un examen de la vista en Laser Eye Center™ para seguir el crecimiento de su Carnosidad y determinar el mejor curso de tratamiento. Llame a nuestra oficina de Los Ángeles, California, al (800) 805-2737 o complete nuestro formulario de contacto en línea para una consulta gratuita.
Get started on your journey to clearer, crisper vision with Laser Eye Center™. Our expert team of doctors are trained and skilled in the latest technology and methods for laser vision correction. To learn more about our state-of-the-art All Laser LASIK technology or about All Laser LASIK itself, contact us today. Schedule your FREE All Laser LASIK consultation by calling today.