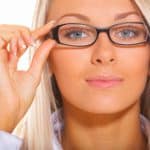 The future of wearable gadgets is here, and it has caught the eye of doctors all over the country. Before we explore the medical implications of Google Glass, a miniature computer-smartphone hybrid, let's take a closer look at the device.
Google Glass looks like a pair of eyeglasses that has a smartphone-like interface (including a built-in computer, camera and mini projector) above the field of vision and beams a translucent image into your eye. With the Glass, you can take a photo, record a video, search the Internet and communicate via audio, text or video — all wirelessly and hands-free. You control the device with voice commands or head gestures. The Glass can be fitted with prescription frames.
This technology is certainly remarkable, but it has people wondering about the effects of the device on eyesight. A select group of eye doctors around the country had the opportunity to sample the Glass during its beta testing, and have happily shared their experiences.
One Eye Doctor's Account
In an article written for the American Academy of Ophthalmology's EyeNet Magazine, Dr. Omar Ozgur described his experience testing the Glass, noting that he videoed both eye exams and surgery for an unobtrusive, hands-free experience. He said the Glass could be very helpful in the future when training budding ophthalmologists and performing clinical evaluation exercises.
As for the patient response to his use of the Glass, Dr. Ozgur reported that his patients appreciated that "new technologies are being used to help improve patient care."
Other Applications in Medicine
In June, the New York Times reported that a growing number of doctors (called "Explorers") were selected to test out the Glass, specifically during surgery. Hand-held devices are not useful in the sterile world of surgery, NYT noted. However, "Because Glass is voice-activated and hands-free," they pointed out, "it may be particularly well suited for the surgical suite, where camera-guided instruments, robotics and 3D navigation systems have been commonplace for years."
Doctors who use the Glass during surgery can record their procedures and even stream them live to fellow doctors. Software developers have also created apps that turn the Glass projector into a virtual electronic record of patients' vitals and lab results, all of which can be pulled up with a virtual blink of an eye.
Will the Glass Affect My Eyesight?
If you're considering the Glass, the American Optometric Association has a few suggestions:
Users with poor vision in one eye should wear the screen over the dominant eye (which could be a problem for some, as the Glass currently only offers a right-eye version).
Excessive use of the Glass screen may exacerbate dry eye symptoms. It's better to glance the screen instead of staring at it for prolonged period of time.
Also, the Glass is set up to project an image approximately nine feet away. Thus, to use the Glass successfully, you should have clear distance vision.
For more information about the vision-enhancing technology that we currently use at Laser Eye Center™, or to schedule a consultation with our team, give us a call at 800-80-LASER or contact us via email.
Get started on your journey to clearer, crisper vision with Laser Eye Center™. Our expert team of doctors are trained and skilled in the latest technology and methods for laser vision correction. To learn more about our state-of-the-art All Laser LASIK technology or about All Laser LASIK itself, contact us today. Schedule your FREE All Laser LASIK consultation by calling today.