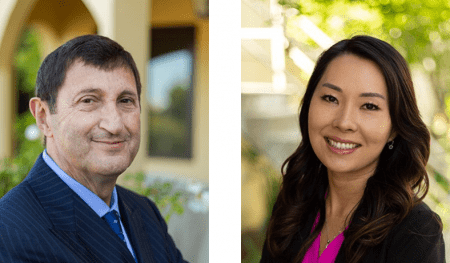 Some eyecare practices build a reputation after hiring one accomplished doctor, but Laser Eye Center is fortunate enough to have two world-class ophthalmologists on staff: Dr. Abraham Shammas and Dr. Rany Woo. Throughout their celebrated careers, these surgeons have helped tens of thousands of patients to achieve better vision and happier lives. Before scheduling an appointment at Laser Eye Center, get to know these outstanding doctors.
Abraham V. Shammas, MD
Dr. Shammas is the president and chief refractive surgeon at Laser Eye Center. He is widely recognized as a pioneer in LASIK procedures. Decades later, he remains knowledgeable on the latest advancements in refractive surgery. In addition to LASIK, he specializes in PRK, crosslinking for keratoconus patients and pterygium removal.
Dr. Shammas was born into a family of ophthalmologists and chose to continue that tradition. He earned his doctorate at American University in Lebanon and later completed a Fellowship in Glaucoma at the Estelle Doheny Eye Foundation at the University of Southern California. He has served as an assistant professor in clinical ophthalmology and director of glaucoma service at Texas Tech University and White Memorial Medical Center in Los Angeles.
Dr. Shammas is a member of the American Academy of Ophthalmology and the American Society of Cataract and Refractive Surgery. He enjoys traveling and exploring new cultures with his three children and his wife, Malak, who is also a physician.
Rany Woo, MD
Dr. Woo is an ophthalmologist who specializes in providing patients with advanced intraocular lenses (IOLs), including Symfony, ReStor, Tecnis and toric lenses, to improve vision that has been clouded by cataracts or to correct refractive errors. She also regularly performs procedures like LASIK, PRK, clear lens exchange, corneal crosslinking for keratoconus and pterygium removal.
Even as a child, Dr. Woo knew she wanted to be a doctor so that she could help enhance other people's lives. She received her undergraduate degree at MIT before earning her doctorate from Yale School of Medicine with highest honors. She later completed her residency at UCLA's Jules Stein Eye Institute.
She is a member of the American Society of Cataract and Refractive Surgery as well as the American Academy of Ophthalmology. Her patients hold her in high regard thanks to her low surgical complication rates. In her free time, she enjoys hiking with her husband and maltipoo.
Schedule a Surgery with Our Ophthalmologists
Dr. Shammas and Dr. Woo treat patients at Laser Eye Center locations throughout Los Angeles, Orange County and the Inland Empire. Their superior education and surgical skills ensure that our patients achieve the best possible outcomes. To meet our friendly team in person, please call (800) 805-2737.
Get started on your journey to clearer, crisper vision with Laser Eye Center™. Our expert team of doctors are trained and skilled in the latest technology and methods for laser vision correction. To learn more about our state-of-the-art All Laser LASIK technology or about All Laser LASIK itself, contact us today. Schedule your FREE All Laser LASIK consultation by calling today.