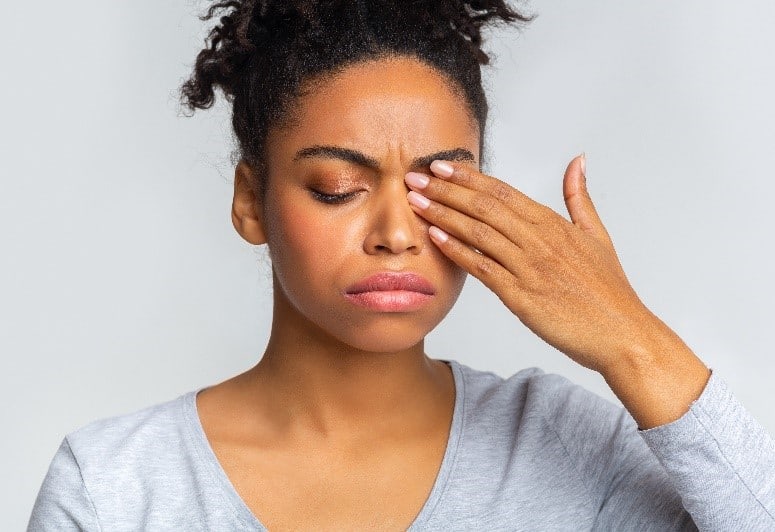 Las órdenes de quedarse en casa para frenar la propagación de COVID-19 significan que estamos pasando más tiempo que nunca usando dispositivos digitales. El tiempo de pantalla ha aumentado exponencialmente con la reciente dependencia del aprendizaje electrónico, el trabajo remoto y los atracones de Netflix. Este aumento en el tiempo de pantalla tiene implicaciones incómodas en una de las áreas más sensibles del cuerpo: nuestros ojos. Laser Eye Center ha visto un aumento en los pacientes que reportan síntomas de ojo seco. Siga leyendo para saber qué estamos haciendo para aliviar su incomodidad.
OJO SECO DURANTE UNA PANDEMIA
En un ojo sano y normal, las glándulas de Meibomio de los párpados producen y secretan aceites que ayudan a que las lágrimas se "peguen" a la superficie de los ojos para que permanezcan lubricados. El acto de parpadear ayuda a que los aceites cubran la superficie del ojo, evitando que las lágrimas se evaporen demasiado rápido.
La frecuencia de parpadeo se ralentiza naturalmente cuando se pasa mucho tiempo frente a computadoras, teléfonos inteligentes o pantallas de televisión. Menos parpadeo significa que los aceites ya no se esparcen por la superficie de los ojos como deberían. Las glándulas de Meibomio que normalmente producen estos aceites pueden bloquearse u obstruirse con secreciones espesas. Como resultado, las lágrimas se evaporan rápidamente y el ojo seco por evaporación se afianza.
Si ha desarrollado la enfermedad del ojo seco, puede experimentar una sensación de ardor o escozor constante. Sus ojos pueden ser sensibles a la luz o puede sentir como si algo estuviera atrapado perpetuamente en sus ojos. Si no se tratan, estos síntomas seguirán empeorando, especialmente porque el ojo seco es una enfermedad crónica y progresiva. Los casos severos de ojo seco no tratado pueden conducir eventualmente a una visión borrosa o incluso a la pérdida de la visión. Si las glándulas de Meibomio permanecen bloqueadas u obstruidas, eventualmente pueden atrofiarse y morir, haciendo que el problema no sea reversible.
ALIVIO DURADERO DE LOS SÍNTOMAS DEL OJO SECO
En Laser Eye Center, nuestro equipo ofrece iLux, un conveniente tratamiento en el consultorio para el ojo seco causado por la disfunción de las glándulas de Meibomio. Este procedimiento sin gotas y sin medicamentos combina la aplicación de calor terapéutico y un masaje suave para derretir y "exprimir" de forma segura los aceites espesados ​​de las glándulas. Esto restaura la producción y secreción normal de aceite para una película lagrimal saludable.
Todo el proceso de tratamiento iLux se puede completar en menos de 10 minutos y se ha descrito como un masaje tibio para los párpados. Similar a una limpieza profunda en el consultorio de un dentista, los efectos duran en promedio de seis a ocho meses, y la duración depende en gran medida del esfuerzo posterior que el paciente decida realizar. Como resultado del tratamiento, la salud de la película lagrimal mejora. en más del 50 por ciento en las primeras dos semanas, alcanzando un máximo de hasta un 80 por ciento de mejora en la marca de cuatro semanas.
En una época en la que los médicos insisten en los riesgos de tocarse o frotarse los ojos, el acceso a un tratamiento seguro y eficaz para la enfermedad del ojo seco es vital. Para obtener más información sobre iLux y si es adecuado para usted, llame hoy al (800) 805-2737 o envíe un correo electrónico a Laser Eye Center.
Get started on your journey to clearer, crisper vision with Laser Eye Center™. Our expert team of doctors are trained and skilled in the latest technology and methods for laser vision correction. To learn more about our state-of-the-art All Laser LASIK technology or about All Laser LASIK itself, contact us today. Schedule your FREE All Laser LASIK consultation by calling today.