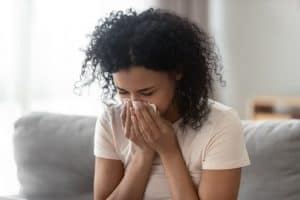 Los ojos secos y las alergias van de la mano, y uno puede complicar al otro. Es fácil confundir los síntomas de la enfermedad del ojo seco y la conjuntivitis alérgica (alergias oculares), especialmente cuando los cambios estacionales empeoran los síntomas del ojo seco. En Laser Eye Center™, nuestros especialistas en cuidado de la vista ofrecen tratamiento para el ojo seco con BlephEx e iLux y pueden ayudar a determinar la causa de sus problemas oculares.
¿Qué causa los ojos secos?
Una película lagrimal saludable depende de una córnea (capa superficial del ojo) adecuadamente lubricada con una buena cantidad y calidad de lágrimas. La película lagrimal se compone de aceite, agua y capas mucosas, y los síntomas del ojo seco ocurren cuando hay una interrupción en la película lagrimal y la evaporación. La disfunción de las glándulas de Meibomio es la causa más común de la enfermedad del ojo seco, pero la edad y los medicamentos como los antihistamínicos y los descongestionantes pueden empeorar o causar la sequedad ocular. Los factores ambientales, incluidos los alérgenos, el humo, los productos químicos y la baja humedad, pueden exacerbar el ojo seco.
¿Tiene síntomas de ojo seco o alergias?
La conjuntivitis alérgica es diferente de la enfermedad del ojo seco y ocurre cuando se expone a alérgenos específicos, lo que provoca la liberación de histamina, inflamación e hinchazón como respuesta inmunitaria. Los alérgenos más comunes incluyen polen, polvo, moho, humo y caspa. Si ya tiene ojos secos, tratar las alergias con antihistamínicos, como Benadryl y Claritin, puede empeorar los síntomas.
La principal diferencia entre las alergias oculares y el síndrome del ojo seco es la intensidad del picor. Si bien los ojos secos pueden presentarse con picazón de leve a moderada, los alérgenos a menudo intensifican la necesidad de picar y frotarse los ojos. Sin embargo, los síntomas de ambos pueden superponerse, incluidos ojos llorosos, sensibilidad a la luz, visión borrosa, enrojecimiento y visión borrosa.
Estos problemas están tan estrechamente relacionados que tener la enfermedad del ojo seco puede hacerlo más susceptible a las alergias oculares y viceversa. Las partículas en el aire que desencadenan las alergias estacionales causan inflamación ocular y ojos secos. Las personas con síndrome de ojo seco con película lagrimal de mala calidad no tienen la protección lubricante de las lágrimas para protegerse contra los alérgenos.
Tratamientos para ojos secos en Los Ángeles
Laser Eye Center™ ofrece la última tecnología y tratamientos para combatir el síndrome del ojo seco y las alergias. Se ha encontrado que estas soluciones probadas alivian tanto los síntomas del ojo seco como los de la alergia al ofrecer un alivio duradero que fomenta la producción natural de una película lagrimal. El tratamiento iLux dura menos de 30 minutos y calienta las glándulas sebáceas internas que recubren los párpados para extraer suavemente la grasa bloqueada y mejorar la película lagrimal. BlephEx funciona en conjunto con iLux, y sirve para eliminar años de biopelícula bacteriana y desechos que se acumulan debajo de los párpados y, por lo tanto, mejora la higiene del margen de los párpados.
Si tiene problemas con los ojos secos y las alergias estacionales, nuestros especialistas en el cuidado de los ojos pueden ayudarlo a mejorar sus síntomas y su visión. Comuníquese con Laser Eye Center™ en Los Ángeles para programar su examen de la vista y consulta sobre el tratamiento del ojo seco. Llame a nuestra oficina al (800) 805-2737 o complete nuestro formulario de contacto en línea para una consulta gratuita.
Get started on your journey to clearer, crisper vision with Laser Eye Center™. Our expert team of doctors are trained and skilled in the latest technology and methods for laser vision correction. To learn more about our state-of-the-art All Laser LASIK technology or about All Laser LASIK itself, contact us today. Schedule your FREE All Laser LASIK consultation by calling today.