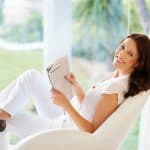 As we welcome the New Year, the friendly vision experts at Laser Eye Center™ in the Los Angeles metro area would like to encourage you to take steps to maintain and improve your eye health. Making simple, everyday changes not only helps keep your vision strong, but also can improve your quality of life. Here, we share a few eye-friendly resolutions.
Eat a Balanced Diet
If improving your overall health is one of your priorities this New Year, then eating healthy may already be one of your resolutions. But did you know what you eat also affects your eyes? Research shows that certain foods can reduce your risk of certain eye conditions, including macular degeneration and cataracts. Eye-friendly foods include dark, leafy greens such as kale, chard, and spinach, as well as fruits rich in vitamin C (i.e, berries). Be sure to eat foods rich in omega-3 such as cold water fish, flaxseeds, and walnuts.
Exercise Regularly
According to the American Academy of Ophthalmology, regular exercise can reduce your risk of age-related macular generation by as much as by 70 percent! Exercising three to four times a week can also lower blood pressure and manage diseases such as diabetes, which can lead to certain eye conditions and vision loss.
Wear Sunglasses Year Round
Cold, cloudy weather is no excuse for putting away your sunglasses. The sun's UV rays easily penetrate clouds and can reach your skin and eyes on any given day. Additionally, surfaces like water and snow can reflect 80 percent of UV rays, increasing your chances of sun exposure and damage. Look for sunglasses that block 100 percent of UVA and UVB rays. Wide framed sunglasses and wraparound sunglasses are great options as they block the sun's UV rays from reaching the sides of the face, preventing wrinkles from forming around the eyes.
Consider All Laser LASIK Surgery
Have you noticed your vision becoming blurry or cloudy? Have you simply grown tired of wearing glasses or contacts? Then why not make 2016 the year you enhance your vision with All Laser LASIK surgery? All Laser LASIK corrects a range of vision conditions including nearsightedness, farsightedness and astigmatism. Not only can All Laser LASIK help you achieve clearer vision and eliminate your dependency on glasses and contacts, it also makes everyday activities such as reading, sports and sightseeing more enjoyable, instantly enhancing your quality of life!
To learn more about All Laser LASIK surgery, contact Laser Eye Center™ today. Schedule a personal consultation by calling 800-80-LASER (52737).
Get started on your journey to clearer, crisper vision with Laser Eye Center™. Our expert team of doctors are trained and skilled in the latest technology and methods for laser vision correction. To learn more about our state-of-the-art All Laser LASIK technology or about All Laser LASIK itself, contact us today. Schedule your FREE All Laser LASIK consultation by calling today.