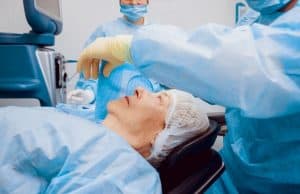 The cataract surgeons at Laser Eye Center are increasingly focused on obtaining the best possible outcomes with premium intraocular lenses (IOLs). One of the advanced technologies that helps our patients achieve extraordinary results after cataract surgery is the Optiwave Refractive Analysis (ORA) system. For the first time in history, cataract surgeons have the ability to measure, refine and confirm outcomes during surgery with ORA to enhance outcomes and reduce the risk of post-operative complications. Our patients can achieve a higher quality of post-operative vision than ever before.
To date, Laser Eye Center is the only practice in Los Angeles with an ORA system.
Real-Time Data Takes the Guesswork Out of IOL Selection
Selecting an IOL depends on a comprehensive evaluation of your optical system and its unique imperfections. Before the inception of systems like ORA, the methods for picking out IOLs left room for error. Surgeons took measurements of the eye prior to surgery, picked out a suitable IOL and had to wait several weeks in order to evaluate the effectiveness of that lens.
The ORA system eliminates the guesswork and uncertainty and enables us to produce more consistent, predictable results. With ORA's wavefront technology, we take continuous, real-time measurements of your eye and its structures after we remove the cataract and before we place the IOL. The information we gather is plugged into a formula that we use to calculate the power of the proper IOL. We can instantly verify whether the correct IOL was selected and determine whether a different lens power selection is needed.
Thanks to the ORA system, we can offer better overall results and improved quality of vision. Using the ORA system can make all the difference whether you need glasses after cataract surgery or not.
Particularly Useful for Astigmatism Cases
ORA is particularly helpful in cataract surgery for patients with astigmatism who require toric IOLs. A toric IOL has different powers in different portions of the lens to correct the asymmetric power of the eye. The placement of a toric IOL on the correct axis is crucial; if the IOL is out of alignment by even a small degree, it can have a dramatic impact on the effectiveness of the lens. ORA eliminates the margin for error when placing toric lenses. Laser Eye Center believes in offering our patients the most advanced solutions to vision problems like cataracts. If you would like more information about the breakthrough ORA system and how we use it to improve our cataract surgery outcomes, our team is happy to speak with you. Please call or email us today to request a consultation.
Get started on your journey to clearer, crisper vision with Laser Eye Center™. Our expert team of doctors are trained and skilled in the latest technology and methods for laser vision correction. To learn more about our state-of-the-art All Laser LASIK technology or about All Laser LASIK itself, contact us today. Schedule your FREE All Laser LASIK consultation by calling today.