Phakic IOL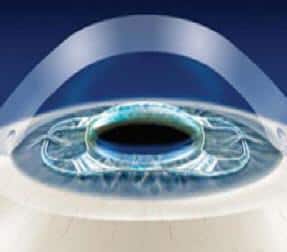 The Verisyse™ phakic intraocular lens (IOL) is a revolutionary new treatment to correct nearsightedness. The phakic IOL is an excellent alternative for patients who may not be good candidates for traditional All Laser LASIK treatment. The procedure is performed with the goal of eliminating the patient's need for contacts and/or glasses.
Contact our team at Laser Eye Center™ to schedule a consultation for the Verisyse™ phakic IOL at one of our Los Angeles, Orange County, and Inland Empire California-area facilities.
Considerations for Your IOL Choice
How does the procedure work?
First, topical or local anesthetic is applied so that the patient does not feel any pain during the procedure. Then a tiny incision is made in the cornea. The Verisyse™ phakic intraocular lens is placed through this incision, behind the cornea and above the natural lens of the eye. After the phakic intraocular lens is in position, the incision is closed with sutures. These sutures will dissolve completely as the eye heals.
The entire procedure can be completed in approximately thirty minutes. Many patients often notice improvement in their vision on the same day as their procedure and the full results usually develop within one week.
What are the advantages of the Verisyse™ IOL treatment?
Unlike other intraocular lenses, the Verisyse™ phakic IOL does not replace the natural lens of the eye. All intraocular lenses help focus light on the back of the retina in order to produce a clear image. However, many intraocular lenses completely replace the natural lens of the eye. The natural lens helps the eye to distinguish between objects that are up close and far away. Since the natural lens remains in this procedure, it is able to work in conjunction with the Verisyse™ intraocular lens in order to help achieve optimal vision.
Please contact the Laser Eye Center™ location that is closest to you for more information about the Verisyse™ IOL. With 8 offices across Los Angeles, Orange County and the Inland Empire, we have experienced and compassionate professionals that serve the entire Southern California region.