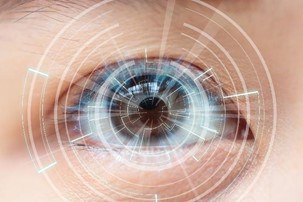 Debido a que la cirugía de cataratas ha evolucionado dramáticamente en las últimas décadas, los pacientes de hoy tienen todas las razones para sentirse cómodos cuando buscan el procedimiento. Actualmente, la cirugía de cataratas se ubica como uno de los procedimientos más realizados en los Estados Unidos. Su popularidad se puede atribuir a la seguridad, simplicidad y eficacia de la cirugía para restaurar la vista.
El equipo galardonado de Laser Eye Center se enorgullece en nuestro compromiso de brindar la mejor atención posible a nuestros pacientes con cataratas. Aquí, nuestros médicos explican algunas de las formas en que la cirugía de cataratas ha mejorado en las últimas décadas.
Cirugía Laser
Tradicionalmente, los cirujanos dependían de un bisturí manual para hacer una incisión en la córnea y reemplazar el cristalino del ojo. Eventualmente, la tecnología avanzó hasta el punto en que un láser de femtosegundo podía hacer la incisión en lugar del bisturí manual. Este cambio significa que la incisión se puede hacer con mayor precisión y tambien más pequeña.
Además, la cirugía láser utiliza tomografía de coherencia óptica para tomar una imagen 3D detallada del ojo. Guiado por esta imagen, el láser optimiza el proceso con un extra de precisión para mejorar tanto los resultados como la seguridad.
Recuperación más fácil
Hace solo unas décadas, los pacientes con cataratas tenían que permanecer en el hospital varios días después de la cirugía y el período de recuperación total podía ser de unos pocos meses. Gracias a las incisiones más pequeñas, los pacientes con cataratas ya no necesitan suturas y el período de recuperación se acelera significativamente. Hoy en día, la cirugía de cataratas es un procedimiento ambulatorio y los pacientes pueden reanudar la mayoría de sus actividades normales tan pronto como se sientan capaces de hacerlo. Los pacientes también reciben un anestésico localizado que adormece el ojo en lugar de anestesia general.
Más opciones de lentes intraoculares
Con la cirugía de cataratas, el cristalino natural nublado se extrae del ojo y se reemplaza con un lente artificial conocido como lente intraocular (LIO) para permitir una visión sin obstrucciones. A lo largo de los años, la cantidad de tipos de LIO's se ha ampliado para adaptarse mejor a las necesidades de cada paciente.
El primer avance en los LIO's fue el LIO monofocal, que enfoca a una distancia. Este es el tipo de lente más común que se usa principalmente debido a restricciones presupuestarias y los pacientes pueden elegir lentes que se enfocan en una de las siguientes opciones: visión cercana, media o lejana. La próxima iteración de lentes se conoce como lentes multifocales y tienen la capacidad de enfocar a diferentes distancias dentro del mismo lente. Esto significa que brindan una visión cercana y lejana, y la visión intermedia permanece algo confusa. Más recientemente, se introdujo lo último en tecnología de LIO's y se conocen como LIO acomodativos. Los LIO acomodativos pueden moverse dentro del ojo, lo que permite un enfoque a varias distancias. En otras palabras, se restaura la visión completa ya que estos LIO's tóricos pueden corregir errores de refracción y superar el astigmatismo del paciente.
Después de examinar la prescripción de la vista de un paciente, los médicos de Laser Eye Center pueden decider las ventajas de cada tipo de LIO para ayudar al paciente a decidir cuál será el más beneficioso.
Programe una consulta
Si sufres problemas de visión por cataratas, la solución es más fácil de lo que imaginas. Los expertos de Laser Eye Center han ayudado a generaciones de pacientes con cataratas a vivir una vida mejor con el uso de la última tecnología. Para reunirse con nuestros médicos en el condado de Los Ángeles o Inland Empire, llame al (800) 805-2737.
Get started on your journey to clearer, crisper vision with Laser Eye Center™. Our expert team of doctors are trained and skilled in the latest technology and methods for laser vision correction. To learn more about our state-of-the-art All Laser LASIK technology or about All Laser LASIK itself, contact us today. Schedule your FREE All Laser LASIK consultation by calling today.