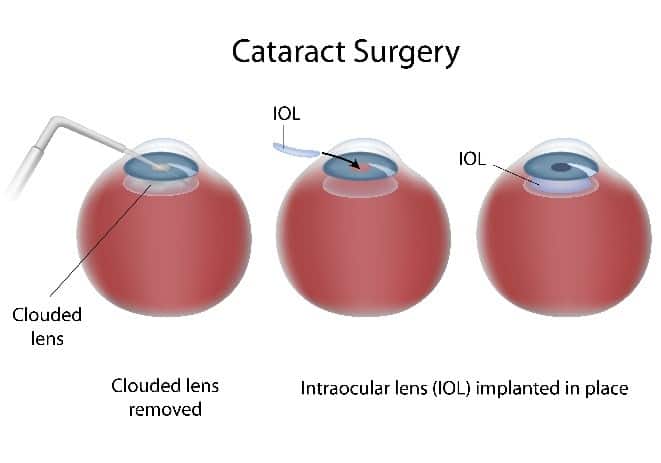 Durante la cirugía de cataratas, el cristalino opaco natural de su ojo se extrae cuidadosamente y se reemplaza con un lente intraocular artificial (LIO) que restaura la visión clara. A pesar de las increíbles innovaciones en la tecnología de LIO y la amplia variedad de soluciones disponibles en la actualidad, solo un número limitado de prácticas ofrece a los pacientes una gama completa de opciones que ubican la financiación y la experiencia como desafíos principales.
El equipo de Laser Eye Center ha invertido en los cirujanos más expertos y cree que, como nuestro paciente, usted tiene derecho a recibir una educación completa sobre todas las opciones y opciones disponibles para usted como paciente de cataratas. Ofrecemos una amplia selección de LIO de última generación para brindarle la visión clara que necesita para su estilo de vida activo e independiente. Estamos clasificados entre los tres primeros en los Centros de cataratas de Los Ángeles en términos de selección de LIO, y el 98 por ciento de nuestros pacientes dicen que están muy satisfechos con las opciones que brindamos.
Opciones de Lentes Intraoculares
Ninguna lente es adecuada para todos. La "mejor" solución para sus necesidades depende de sus ojos únicos, salud general, estilo de vida y preferencias personales.
Lentes monofocales: el tipo más básico de LIO, los lentes monofocales restauran la visión a una sola distancia fija y requieren anteojos para ver claramente a todas las demás distancias. Esto es similar a que le ofrezcan un audífono que le permite escuchar a una persona susurrando en su oído o gritándole desde el otro lado de la casa.
Lentes multifocales: Los lentes multifocales restauran la visión a varias distancias pero a expensas de la calidad visual. Los lentes no brindan una transición perfecta entre la visión de cerca y de lejos, y se sabe que causan efectos secundarios visuales, incluidos halos, deslumbramiento y poca sensibilidad al contraste.
Lentes de profundidad de enfoque extendida (EDOF): Las LIO de profundidad de enfoque extendida son un tipo avanzado de LIO que proporciona una visión clara de cerca, de lejos y de distancia intermedia sin comprometer la calidad visual. ¡También pueden corregir el astigmatismo! ¡Con estos LIO revolucionarios como Symfony y PanOptix, puede leer, mirar televisión, conducir y disfrutar de sus pasatiempos favoritos con poca o ninguna dependencia de los anteojos! La calidad visual es tan buena que rivaliza con lo que pudo haber disfrutado en sus 30 años.
Lentes tóricos: Los lentes tóricos están especialmente diseñados para el astigmatismo o una curvatura corneal anormal. Tienen corrección incorporada para mitigar la distorsión visual causada por el astigmatismo y eliminar la necesidad de cirugía adicional.
Permítenos Ayudarte a Decidir
Con tantas opciones de LIO disponibles, necesita un equipo experimentado y confiable que lo ayude a tomar una decisión informada. Nos sentaremos con usted para discutir sus necesidades y objetivos visuales, preguntándole sobre sus actividades diarias para determinar el tipo de visión que necesita para realizar esas actividades. También discutiremos cualquier condición preexistente, como el astigmatismo, que pueda necesitar un tipo específico de lente.
Para obtener más información sobre la cirugía de cataratas y los LIO, llame o envíe un correo electrónico a Laser Eye Center hoy.
Get started on your journey to clearer, crisper vision with Laser Eye Center™. Our expert team of doctors are trained and skilled in the latest technology and methods for laser vision correction. To learn more about our state-of-the-art All Laser LASIK technology or about All Laser LASIK itself, contact us today. Schedule your FREE All Laser LASIK consultation by calling today.