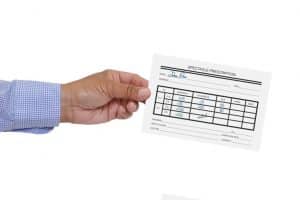 Probablemente miró su receta de lentes de contacto y anteojos y pensó que parecía una ecuación matemática complicada. Estas abreviaturas y números son los modelos para una visión clara y son únicos para cada paciente. Esta hoja de papel describe el poder de corrección de la visión necesario para permitirle ver claramente con anteojos correctivos. Nuestros oculistas en Laser Eye Center™ en el sur de California explican cómo leer su prescripción de la vista.
Abreviaturas en su prescripción oftalmológica
Una de las primeras cosas que puede notar sobre su receta son las abreviaturas utilizadas en el papel. OD, OS y OU se utilizan para recetar lentes de contacto, anteojos y medicamentos para enfermedades o afecciones oculares. Oculus dexter (OD) representa tu ojo derecho y oculus sinister (OS) tu izquierdo. Oculus uterque (OU) describe ambos ojos. Otras abreviaturas utilizadas en las prescripciones de la vista incluyen:
SPH: La porción de esfera de su prescripción enumera la potencia de su lente. El poder del lente corrige su vista para la miopía (miopía) y la hipermetropía (hipermetropía). Un signo menos indica miopía, y un signo más o la ausencia de un cuantificador significa que tiene hipermetropía.
CYL: La parte del cilindro de su prescripción de visión representa el grado de astigmatismo. Esta área puede estar en blanco si no tiene astigmatismo. Los signos menos y más también se utilizan en esta columna para designar astigmatismo miope o astigmatismo hipermétrope, respectivamente.
Otras áreas de la prescripción de su visión indican el eje, el complemento y el prisma.
La sección del eje define la dirección del astigmatismo, como el astigmatismo horizontal de 180 grados. La parte adicional muestra la potencia de aumento requerida para adaptarse a la presbicia. La presbicia es la pérdida de la visión de cerca relacionada con la edad que se produce cuando el cristalino natural del ojo se endurece y pierde su flexibilidad y capacidad de adaptarse para una vista clara de cerca.
El "agregar" se usa en la parte inferior de los lentes multifocales o "bifocales" y generalmente se aplica a personas mayores de 40 años. Este número puede tener un signo más y se aplica a ambos ojos.
La sección final de su prescripción de visión es el prisma. El prisma compensa los ojos desalineados. Algunas prescripciones requieren un poder prismático para corregir su visión mientras se adaptan a los problemas de alineación. BO-base hacia fuera, BU-base hacia arriba, BD-base hacia abajo y BI-base indican la potencia del prisma.
Programe su examen de la vista en Laser Eye Center™
Si tiene preguntas sobre su prescripción de la vista o es hora de un examen de la vista, comuníquese con nuestros oftalmólogos en Laser Eye Center™ para programar una cita hoy.
Get started on your journey to clearer, crisper vision with Laser Eye Center™. Our expert team of doctors are trained and skilled in the latest technology and methods for laser vision correction. To learn more about our state-of-the-art All Laser LASIK technology or about All Laser LASIK itself, contact us today. Schedule your FREE All Laser LASIK consultation by calling today.