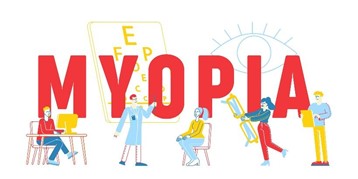 ¿Tu visión es clara cuando miras objetos cercanos pero borrosa cuando tratas de enfocar objetos en la distancia? Entonces probablemente sea uno de los aproximadamente 30-40% de los estadounidenses que experimentan miopía. Todos los días en Laser Eye Center, nuestro dedicado equipo de médicos trata a pacientes con miopía, ayudándolos a llevar una vida saludable con una visión de mayor calidad. Aquí, nuestros especialistas en miopía explican cómo puede mejorar su vida después de superar la miopía.
¿Qué Causa la Miopía?
La miopía es un error de refracción común que ocurre cuando la curvatura de la córnea es imperfecta o el globo ocular se extiende demasiado. Por lo general, la luz que viaja a través de la córnea se refracta (dobla) para poder comunicarse con el cerebro y permitir la vista. Con un error de refracción, la luz se desvía incorrectamente en su camino hacia la retina y puede causar visión borrosa.
En muchos casos, la miopía parece ser genética, lo que significa que puede haber heredado la miopía de uno de sus padres. Sin embargo, la medida en que su miopía progresa puede verse influenciada por factores ambientales. Si pasa mucho tiempo mirando una computadora o leyendo, estas actividades también pueden empeorar su visión de lejos.
Formas en Que su Vida Mejora sin Miopía
Sin miopía, ya no tendrás que entrecerrar los ojos para distinguir objetos en la distancia. Incluso puede notar una disminución en los dolores de cabeza una vez que deje de tener que forzar la vista.
También puede sentarse donde quiera en una habitación en lugar de tener que buscar un asiento en la parte delantera de la sala de cine o cerca de la pizarra durante las reuniones o en un salón de clases.
Conducir se vuelve no solo más fácil, sino también más seguro. Cuando puede detectar peligros y otros vehículos en la distancia de manera más confiable, tiene más tiempo para responder.
Cómo Arreglar tu Miopía
La solución más común para combatir la miopía es con lentes recetados. Los anteojos y los lentes de contacto pueden ayudar a corregir sus errores de refracción para mejorar la visión.
Siempre que tenga más de 18 años, también puede considerar LASIK y PRK para tratar su miopía. Estas son cirugías populares porque remodelan permanentemente la córnea para que pueda ver sin tener que depender de los anteojos con tanta frecuencia.
Si tiene miopía extrema, un lente de contacto implantable (ICL) puede ser el mejor procedimiento. El cirujano inserta un lente intraocular detrás de su iris que puede corregir permanentemente la miopía.
CENTRO DE OJOS CON LÁSER DE CONFIANZA
Laser Eye Center cuenta con los mejores optometristas y oftalmólogos que el sur de California tiene para ofrecer. Somos reconocidos por nuestra plataforma tecnológica de vanguardia, que se actualiza continuamente con cada nuevo avance tecnológico. Como pioneros en el mercado, nos enorgullece compartir que hemos logrado un hito clave al haber superado los treinta años de práctica y haber concluido con éxito más de medio millón de casos. Si usa anteojos o necesita lentes de contacto nuevos, lo invitamos a programar una cita en una de nuestras seis ubicaciones en el condado de Los Ángeles y en Inland Empire para saciar su interés en aprender más sobre LASIK, PRK o ICL.
Get started on your journey to clearer, crisper vision with Laser Eye Center™. Our expert team of doctors are trained and skilled in the latest technology and methods for laser vision correction. To learn more about our state-of-the-art All Laser LASIK technology or about All Laser LASIK itself, contact us today. Schedule your FREE All Laser LASIK consultation by calling today.