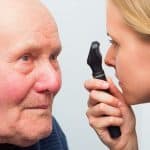 Thanks to the latest advances in artificial intraocular lenses (IOLs), cataract patients have more options than ever in restoring clear vision after surgery. Among the most exciting options is the Tecnis Symfony IOL, the first in a new category of IOLs to provide continuous, high-quality full range of vision. The Symfony IOL is ideal for cataract patients who wish to mitigate the effects of presbyopia (an age-related condition that results in the loss of near vision) and reduce their dependence on reading glasses. In this blog post, the trusted vision experts at Laser Eye Center™ answer commonly asked questions about the Symfony IOL.
What Makes the Symfony IOL Different from Other Multifocal IOLs?
Standard multifocal IOLs improve vision at distinct focal points and varied distances. Although these IOLs can restore vision at near, intermediate and far distances, the quality of vision is not seamless. The Symfony IOL uses advanced technology to create one continuous focal point (known as extended depth of focus) for consistent, high-quality vision over a wide range of viewing distances. In addition, the Symfony IOL has an extremely low occurrence of halos and glare, which is a common side effect of standard multifocal IOLs.
How Is the Symfony IOL Placed Into the Eye?
Like all other IOLs, the Symfony is inserted into the eye during cataract surgery. During the procedure, the surgeon will make an incision in the cornea in order to access the natural lens. Once the natural lens is removed, an IOL will be gently inserted in its place. Cataract surgery is one of the most common and successful surgeries performed today. The procedure can be completed in a matter of minutes and only requires a short recovery.
Can the Symfony IOL Correct Astigmatism?
Yes! The Symfony IOL is available in a toric version to patients with astigmatism. The Symfony IOL can correct pre-existing astigmatism while eliminating the need for additional surgery.
Am I Candidate for the Symfony IOL?
You may be an ideal candidate for the Symfony IOL if you have cataracts and experience blurry near vision due to presbyopia. The Symfony IOL is also a great option if you live an active lifestyle and want to see clearly at all distances without glasses. Our vision experts can help you determine whether the Symfony IOL or another lens is best for you based on your specific visual needs and lifestyle.
To learn more about the Tecnic Symfony or about the other IOL options we offer for cataract surgery, please schedule a FREE consultation with Laser Eye Center™. Call (800) 80-LASER (52737) today.
Get started on your journey to clearer, crisper vision with Laser Eye Center™. Our expert team of doctors are trained and skilled in the latest technology and methods for laser vision correction. To learn more about our state-of-the-art All Laser LASIK technology or about All Laser LASIK itself, contact us today. Schedule your FREE All Laser LASIK consultation by calling today.