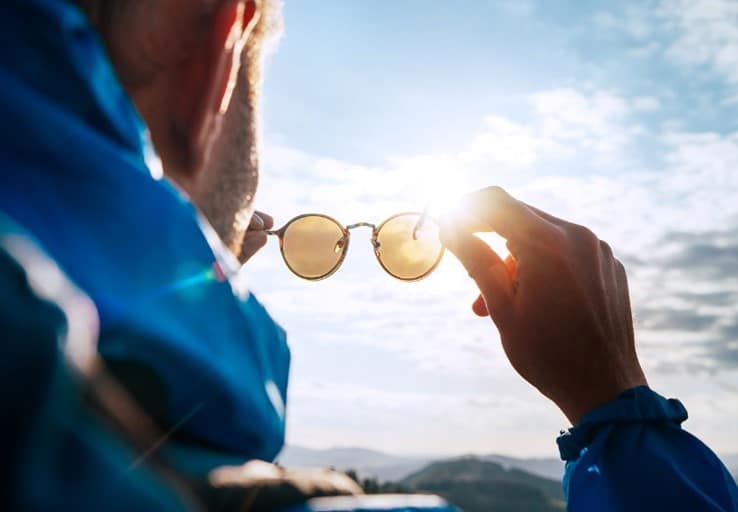 Cuando se trata de los rayos UV, usar protector solar es solo una de las muchas formas de protegerse de la exposición solar dañina. Es el Mes de Concientización sobre la Seguridad UV, y nuestros oculistas en The Laser Eye Center™ quieren que comprenda la importancia de proteger sus ojos de la luz UV-A y UV-B.
Read more

: Celebre el mes de la seguridad UV con el cuidado adecuado de los ojos y la protección UV
¿CÓMO LA EXPOSICIÓN AL SOL DAÑA TUS OJOS?
El exceso de luz solar afecta la salud de sus ojos. Si bien somos muy cautelosos con la exposición al sol durante el verano, la exposición a los rayos UV puede causar daños durante todo el año. Los rayos ultravioletas dañan los tejidos de los ojos y aumentan el riesgo de ciertas enfermedades oculares, incluidas las cataratas y la degeneración macular. Estas condiciones son las principales causas de ceguera y requieren cirugía o tratamiento rápido para preservar su visión. Estar atento al cuidado de los ojos cuando está bajo el sol puede proteger su vista.
Las cataratas se pueden curar con la cirugía de cataratas, pero la degeneración macular es mucho más difícil de tratar. Los rayos UV dañan la mácula (la mitad de la retina) responsable de ver los detalles finos y la visión central. Es esencial proteger sus ojos de la luz ultravioleta para prevenir la pérdida de visión y la ceguera por estas enfermedades oculares. Años de exposición al sol también aumentan el riesgo de cáncer de ojo.
Las personas que pasan mucho tiempo bajo el sol sin gafas de sol con protección UV tienen más probabilidades de desarrollar pterigión, un crecimiento en el ojo. Los agricultores, pescadores, surfistas y esquiadores a menudo experimentan pterigión. La ceguera de la nieve es otra preocupación ocular que puede ocurrir por la exposición a los rayos UV y ocurre cuando los rayos UV se amplifican y se reflejan en la nieve, el hielo, el agua o la arena. En muchos casos, el sol causa daños "silenciosos" con el tiempo, pero la ceguera de la nieve surge con rapidez, generalmente en condiciones de viento, sequía o frío en lugares elevados. Las gafas de sol que filtran los rayos de luz UV-A y UV-B pueden prevenir estos problemas oculares.
ELEGIR TUS GAFAS DE SOL
Los bebés, los niños y los adultos deben usar anteojos de sol para proteger sus ojos, y es una buena idea usar un sombrero de ala ancha para tomar precauciones adicionales. Cuando busque gafas de sol, querrá asegurarse de que estén más que a la moda. Sus anteojos de sol deben proporcionar una protección UV del 100 por ciento contra la luz UV-A y UV-B. Las gafas de sol envolventes son las mejores para garantizar una cobertura completa, y sus anteojos recetados deben tener una capa protectora contra los rayos UV. Los lentes de contacto no filtran los rayos UV.
Recuerda que tus ojos son vulnerables a la exposición al sol durante todo el año, incluso en días nublados. Si experimenta cambios repentinos en la visión o síntomas preocupantes, comuníquese con nuestros oftalmólogos en el sur de California para programar un examen de la vista.
PROGRAME SU EXAMEN DE LA VISTA EN EL LASER EYE CENTER™
Puede programar su cita con nuestros oculistas experimentados llamando a The Laser Eye Center™ al (800) 805-2737.
Get started on your journey to clearer, crisper vision with Laser Eye Center™. Our expert team of doctors are trained and skilled in the latest technology and methods for laser vision correction. To learn more about our state-of-the-art All Laser LASIK technology or about All Laser LASIK itself, contact us today. Schedule your FREE All Laser LASIK consultation by calling today.