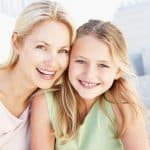 It has been well established that certain diseases like colon cancer seem to run in some families. But did you know that the same is true of eye diseases? Families may pass along abnormal genes that cause eye diseases like retinitis pigmentosa or strabismus. In serious cases, inherited eye diseases can completely rob a person of their vision.
Here, the Laser Eye Center™ team identifies several eye diseases that are known to be hereditary.
Albinism
Though we tend to think of albinism as a lack of pigment in the skin or hair, it can also affect the eyes. People with albinism may have white or pinkish irises, be sensitive to light/glare and have other problems with their vision. Some are even legally considered blind.
Achromatopsia
Achromatopsia is a vision disorder in which a person can see little to no color. They may also suffer vision loss and be sensitive to bright light. To manage their symptoms, many people with achromatopsia wear sunglasses or tinted contact lenses.
Best's Disease
A rare form of macular degeneration, Best's Disease can cause blurred/distorted vision or the loss of central vision.
Cone-rod Dystrophy
Cone-rod dystrophy is a disease that causes light-sensitive cells of the retina to deteriorate over time. This causes decreased sharpness of vision, as well as loss of peripheral vision and color perception. Retinitis pigmentosa is the most common form of cone-rod dystrophy.
Keratoconus
Often inherited, keratoconus is a corneal condition in which the cornea progressively thins and bulges outward. Keratoconus can cause blurred or distorted vision. Nearly one in five people with keratoconus will require a corneal transplant at some point.
Microphthalmia
Microphthalmia is a condition in which one or both eyes are abnormally small. Visual impairment from microphthalmia can range from reduced vision to blindness.
Stargardt's Disease
Like Best's Disease, Stargardt's Disease is a type of macular degeneration. It robs a person of central vision and can make it difficult to perform simple daily tasks like reading or driving. Some people with Stargardt's Disease experience total loss of detail vision.
Strabismus
Genetics may contribute to an eye condition called strabismus, where both eyes fail to align simultaneously under normal circumstances. Although it is most commonly inherited, strabismus can also be caused by an injury or disease.
Usher Syndrome
Usher Syndrome causes hearing loss and gradual vision loss due to retinitis pigmentosa. People with Usher Syndrome may also have trouble with their balance.
Contact Laser Eye Center™
Refractive errors aren't necessarily passed along from generation to generation. However, if you have poor vision due to nearsightedness, farsightedness or astigmatism, All Laser LASIK can help you enjoy freedom from glasses and contacts.
Contact Laser Eye Center™ today to learn more about All Laser LASIK and how it can help improve your vision and quality of life. Call 800-80-LASER to speak with a member of our team.
Get started on your journey to clearer, crisper vision with Laser Eye Center™. Our expert team of doctors are trained and skilled in the latest technology and methods for laser vision correction. To learn more about our state-of-the-art All Laser LASIK technology or about All Laser LASIK itself, contact us today. Schedule your FREE All Laser LASIK consultation by calling today.